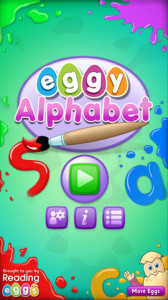 The Eggy Alphabet App is available for your iPad and/or iPhone in the iTunes Store.
When you start up this app, it asks for your child's name and each time you log in it will welcome your child.
The home page has 2 available activities "Letter" and "Letter Game".
When you select "Letters" a friendly voice will tell you to select a letter.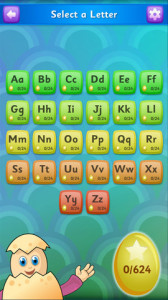 After selecting a letter, they will direct you to select an activity.  Your child can select an upper case or lower case letter for their activities.  The available activities are Dot-to-Dot, Draw the Letter, Copy the Letter, or Letter or Not?
Dot-to-Dot is just that connecting the numbers to draw the letter. It will make your child repeat the letter Dot-to-Dot several times with numbers, then they will take away the numbers are show just dots, then take away the darkened letter to make your child draw the letter by themselves.  I really like the repetition of the letter.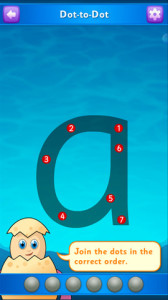 Draw the letter is just that. They give you a blank page and your child will draw the letter.
Copy the letter – they give you the letter and arrows to give the direction your child should use to write the letter.
Letter or Not? and the Letter Game (From the home page) –  It will give you different pictures and ask if the picture starts with  that letter.  For example see below.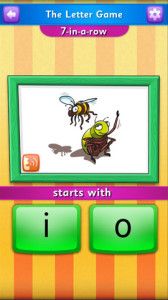 Does the word insect start with the letter i?  In this case yes, it does. The next picture may be a vase or flowers.
When your child finishes a level they receive a critter.  We received "Mr. Cheese the Mouse" for playing for 10 minutes straight and "Blue the Whale" for completing our first Dot-to-Dot activity.
This is a great learning app for your beginning readers, writers and learning the alphabet for your little ones.
Best of all Moms & Dads, you can check their progress!
Look for my next app review – Eggy Sight Words!
Share and Enjoy