When I hear the brand name Sassy, I immediately think of bright vibrant colors and baby friendly, and that is exactly what their new line of toys called Non-sters are.  They are named after the way babies babble.  Each Non-ster personality possesses a baby trait.  Some of their names include Ci-Ci, La-Lee, and Buppy-Uppy.  Each toy has a specific age range, a list of what they promote, and ways to help your child interact with the toy.  They are of very high quality and sold exclusively at Target.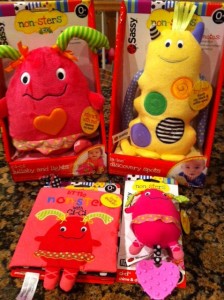 I had the opportunity to review four different Sassy Non-sters.  First was Ci-Ci lullaby and lights.  This is a soothing toy for children.  Ci-Ci is absolutely adorable with her green pig-tails, orange ribbons, pink with green polka-dot tutu, and ballerina shoes.  The colors are so bright and cheery, and she has many different textures.  Gently squeeze Ci-Ci's hand and the heart in the center of her tummy lights up and soothing lulllaby music plays while the lights change color.  You can also change the lullaby music to a heartbeat.  It comes with batteries, which is definitely a plus!  Ci-Ci promotes interaction, self-soothing, and discovery.  It is for 0+ months, and I can see babies playing with it through a year old.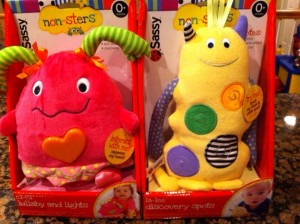 La-Lee discovery spots was the next Non-ster I received.  La-Lee was very silly looking with green spikey ribbon hair, different colored ears, and different colored and textured spots.  What a surprise I had when I touched any of the four different spots down La-Lee's tummy and silly sound effects emerged!  This would definitely occupy babies for hours!  This Non-ster also comes with batteries and promotes interaction, cause-and-effect, and imagination.  La-Lee is recommended for 0+ month children, but even my three year old had a ball with it.
Besides Non-sters that light up and play music, they also have books and carrier attachments.  The books are absolutely adorable and have so many features.  Ci-Ci's book has a velcro strap at the top so you can attach it easily to a carrier or stroller.  Each page has very bright colors and patterns that are very appealing to babies' eyes.  Pages include crinkle textures, a mirror, and a place to insert a photo.  You can even personalize the back with the child's name.  You can also buy Ci-Ci as a chime & chew carrier attachment.  A very durable velcro strap makes it easy to attach to a carrier.  It has a nice sounding chime inside, and a dangling pink heart that is great for chewing on when teething.  Again the colors are very bright and vibrant, and the quality is very high.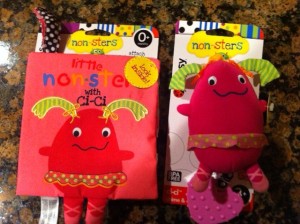 Overall I was very impressed with all four Sassy Non-ster baby toys.  I plan on buying them as gifts for many of my friends who are expecting.  Their colors, textures, and features make them great baby toys.  You can see all of the different Non-sters at http://www.sassybaby.com/nonsters.
Share and Enjoy