CraftProjectIdeas.com is dedicated to kids' arts and crafts projects for preschool children through tweens.  The website offers step-by-step instructions to inspire kids with arts and crafts.  The products shown on the site are all available in the Kids' Crafts aisle at popular retailers.  CraftProjectIdeas.com has a "How To" section featuring basic techniques, a featured material for each month, rainy day projects, seasonal projects, and even a teacher's corner.  There's also a "Products" section, which shows an array of different materials and craft kits, a "Videos" section showing clear concise directions and what the end project should look like, and a "Store Locator" where you can find a store that carries the products.  My favorite feature of the site is the Project Finder search engine.  Just choose the age, season, theme, and materials and it will find a project you can make!
I received a wonderful selection of products from them including the following:
Glow in the Dark Alphabet Beads
Metallic Pony Beads
Large Bling Acrylic Jewels
Shimmer Poms
Neon Glitter Shakers
Craft Buttons
Multi-Size Suction Cups
Mini Wooden Clothespins
Skinny Sticks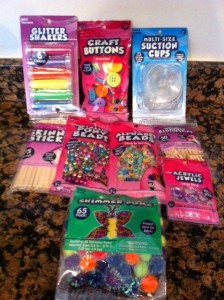 I decided to help my toddler make some Valentines for his grandparents with some of the supplies.  I had some red and purple foam sheets on hand so we used those as our base.  I also had pink foam stickers that he enjoyed sticking on.  To add some more sparkle he stuck on a few Large Bling Acrylic Jewels.  They were super easy to remove from the sheet, and they stuck on easily to the foam.  Then I had him pick out the letters to his name, "R, O, C, K, Y" from the Glow in the Dark Alphabet Beads and we glued them on each valentine.  The beads were nice and flat and glued on easily.  Finally we used the Neon Glitter Shakers to finish the valentines.  I wished the glitter would have come out a little better than it did.  You had to hold it at a certain angle for enough to shake out.  Overall, we had a blast making them and the grandparents LOVED them!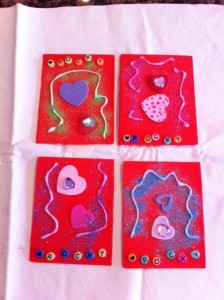 We also decided to make some picture frames for some birthdays that are coming up.  I had my son color the Skinny Sticks with markers and then we glued them into triangles and squares.  Then we glued Craft Buttons onto each corner.  I loved how flat the buttons were; it made them very easy to glue on.  To finish off the triangle picture frame we glued on Shimmer Poms to the Craft Buttons.  These took a little effort to stay glued on, but with enough glue they finally stuck.  All we need to do is add a picture to the back, and they will be perfect!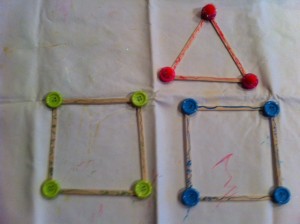 All of the products I received were of excellent quality.  The colors are so vibrant and the pieces are very child friendly to use.  My favorite part?  Most of the bags are resealable so you when you are all done with a project you can seal the bag without losing any extra pieces!  I am so excited to make even more projects with my son.  He loves doing arts and crafts and doing projects teaches him so many skills.  The sky is the limit with all of the inspiration from CraftProjectIdeas.com!
<em>Faith and Family Reviews received the following product free from
<a href="http://www.Craftprojectideas.com">www.CraftProjectIdeas.com</a> in exchange for writing a
review about these crafting supplies. While we consider it a privilege to
receive free products, our reviews are our honest opinion and thoughts of the
product.</em>
Share and Enjoy