Just in time for Valentine's Day!
ProFlowers is a wonderful company that offers a variety of floral arrangements and other gift ideas for everyone! They offer rapid shipping and their products come quickly! ProFlowers will deliver the same day or at a later scheduled time…can you say wow!
For this review we opted for a "gourmet gift" rather than flowers. We choose Mrs. Fields cookies.
Item Description:
Mrs. Fields Classic Tin ~ 96 Nibblers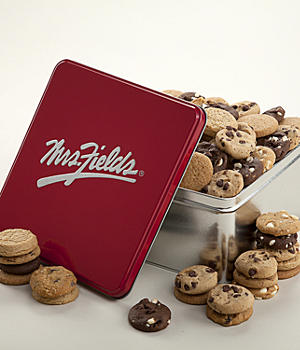 Item # 43257
96 assorted Nibblers Bite Sized Cookies
Approximately 8" x 8" x 9
Approximate weight 3 pounds
Assortment may include:

Semi-sweet chocolate Chip
Cinnamon Sugar
Oatmeal raisin with Nuts
Peanut Butter
Triple Chocolate
White Macadamia Nut
Our review:
We scheduled our delivery for a Tuesday and the delivery arrived as scheduled. It arrived at our home before noon, which was nice not having to wait all day for the delivery.
The cookies were neatly packaged in the tin as shown. As you can tell they are almost identical to the picture in the advertisement. We were pleasantly surprised at how many cookies were in the tin.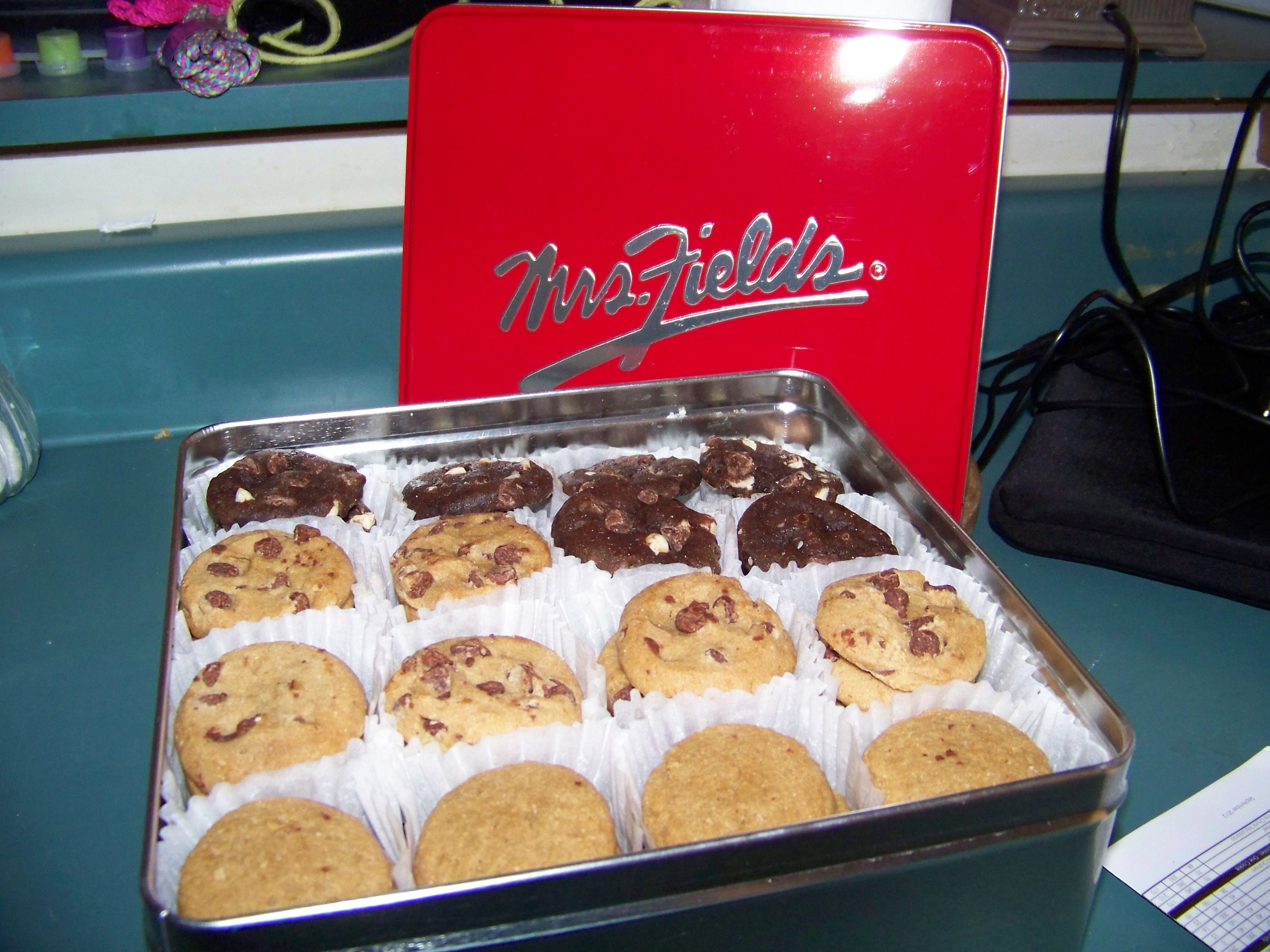 In our assortment we received the semi-sweet chocolate chip, peanut butter, cinnamon sugar, and triple chocolate cookies. So overall, a very nice assortment of cookies!
So how did they taste? They were VERY yummy! When we first opened the package they were a bit cold and dense…since it is winter here and was in the single digits when they arrived. But, that did not stop anyone from eating a few!  Once the cookies sat for a bit and warmed to room temperature they were moist and soft…very pleasing. Cold or room temperature … it did not matter …they were eaten VERY quickly! They were a hit in our household.
One thing I liked about the size of the cookies is that they were perfect bite size… I even packed a few in my children's lunch for a special snack during the week!
Just another side note… make sure to review shipping…i did notice that shipping costs vary between a few dollars depending on the day you have them delivered and the time…just something to keep in mind.
VALENTINE'S DAY is COMING!
You can order ProFlowers today and have them delivered for Valentine's Day. Just schedule the delivery with their handy calendar tool!
http://www.proflowers.com/valentines-day-flowers-VDF
PROFLOWERS COUPONS
…and do not forget the coupons! ProFlowers has a vast array of coupons available to help with the cost of sending flowers to your sweetheart.  There are coupons for a percentage off, free vase, and more!
http://www.proflowers.com/coupon-codes.aspx 
Faith and Family Reviews received the following product in exchange for writing a review. While we consider it a privilege to receive free products to review, our reviews are our honest opinion and thoughts of the product.
Share and Enjoy