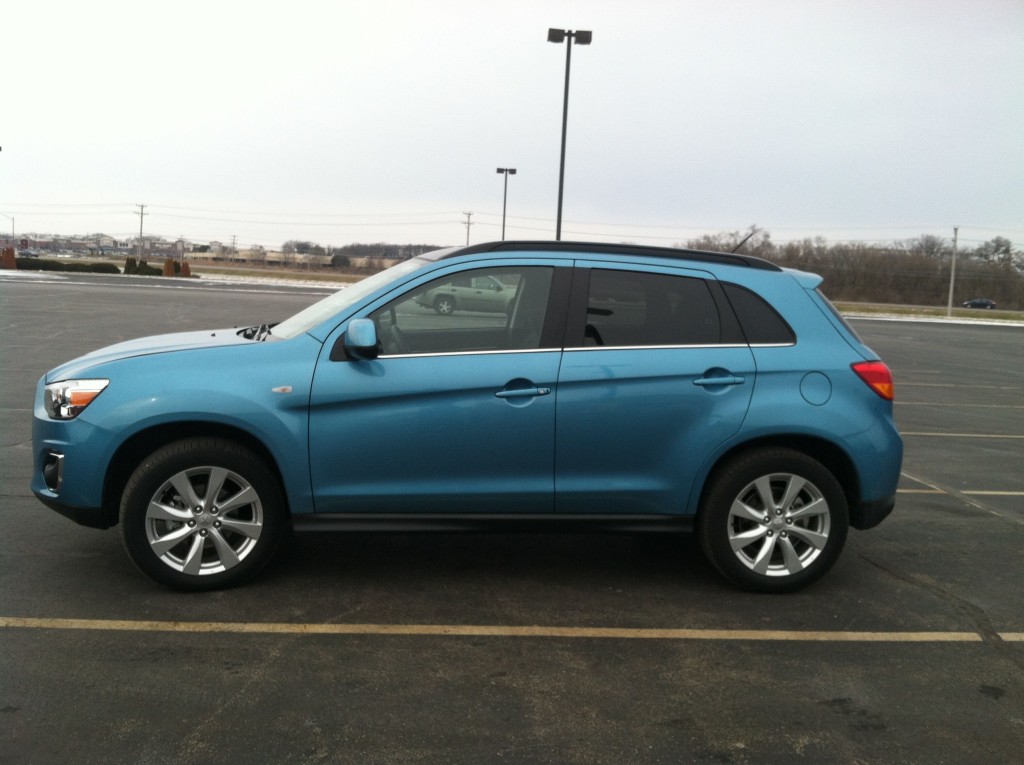 Aside from my extreme excitement of being offered the opportunity to do a 2013 Mitsubishi Outlander Sport review – a brand new car – for a week (less than 5000 miles were on it when it arrived at our home), I love these things about the 2013 Mitsubishi Outlander Sport: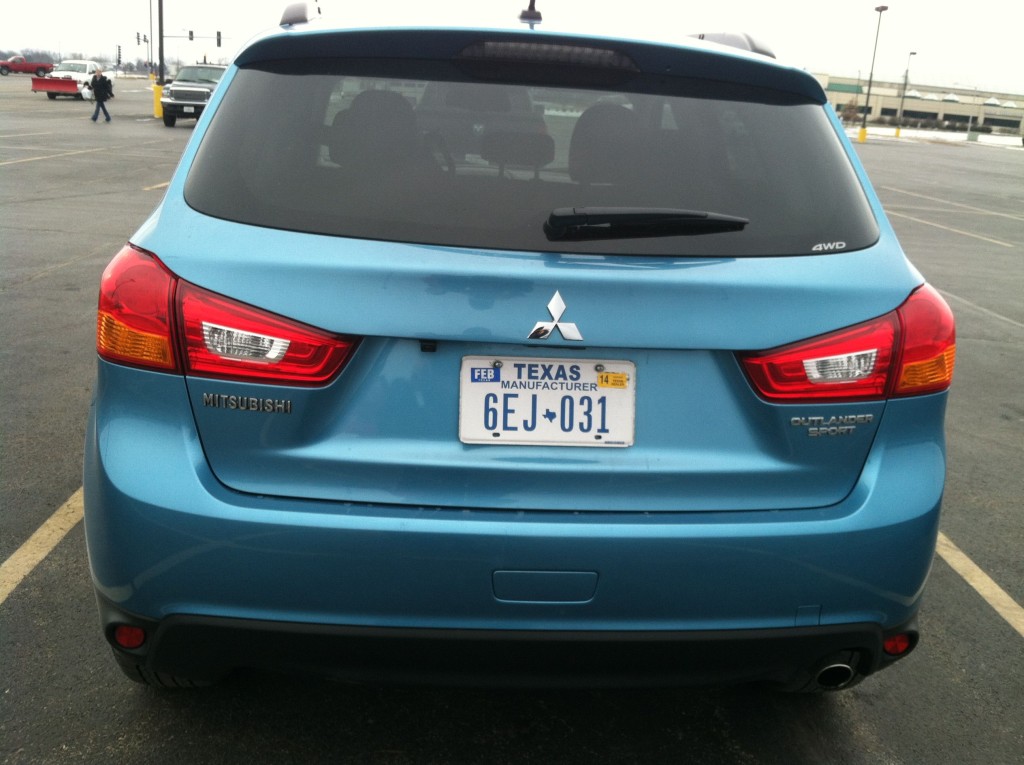 Love the push button start
Love the sporty look and color – Laguna Blue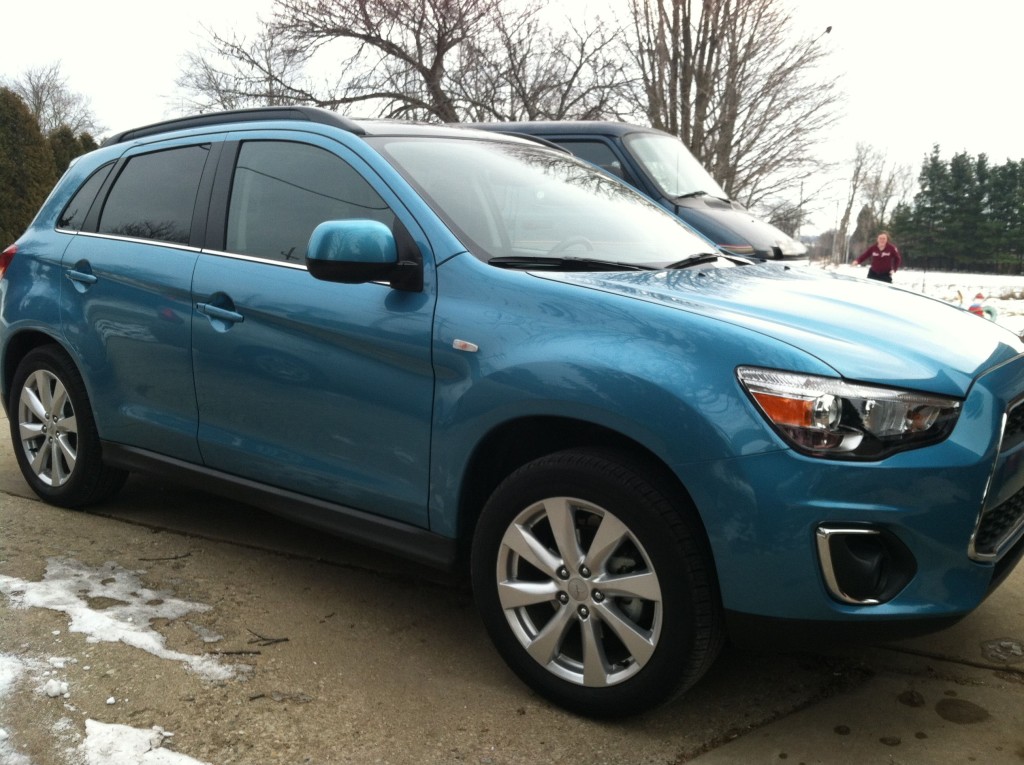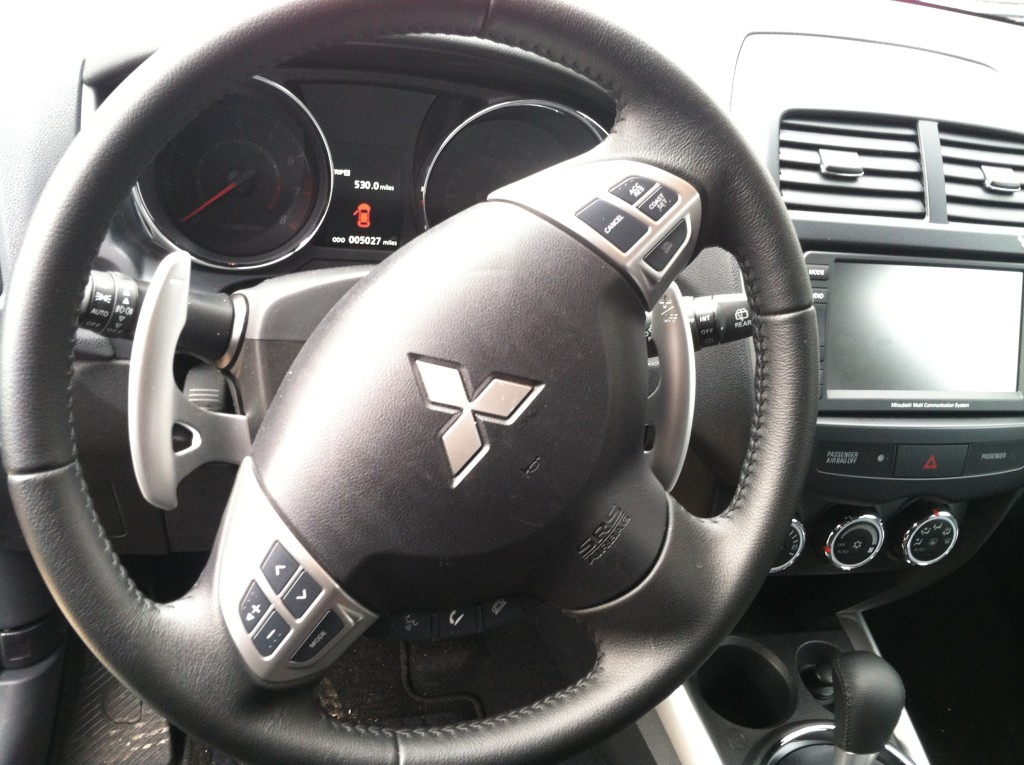 Love the tilting feature of the headlights
Better gas mileage than most SUVs
4WD/AWD came in handy when we had lots of ice
The interior light was located at the front between the two visors and not in the middle of the ceiling so I didn't have to stretch back my arm, which I have to do when I drive my mother-in-law's car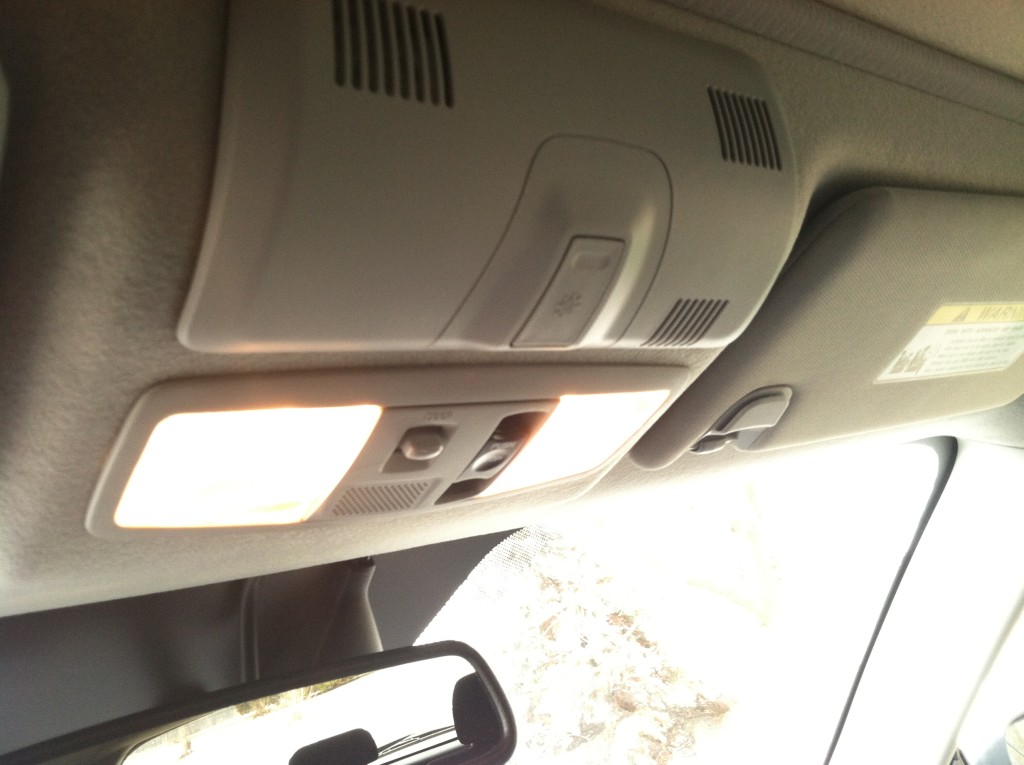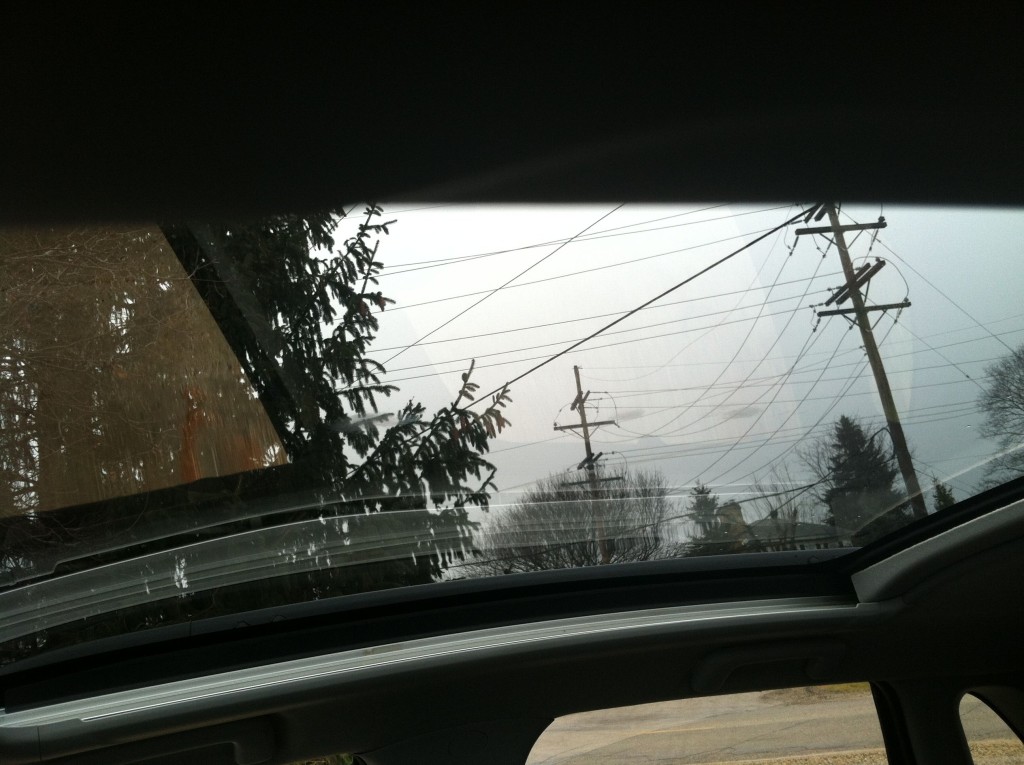 My husband loved:
Nice, bright headlights, cool dial to adjust headlights (they moved down)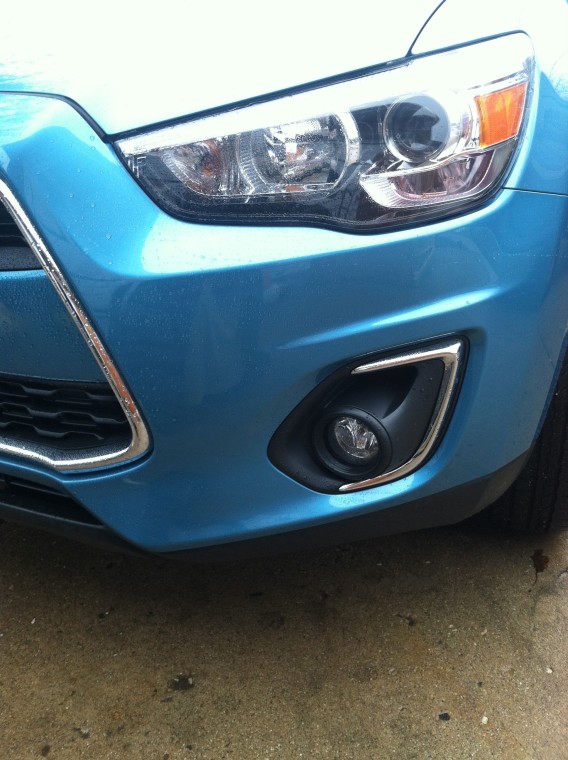 Running lights on the sunroof was a neat feature, didn't offer much lighting just a cool affect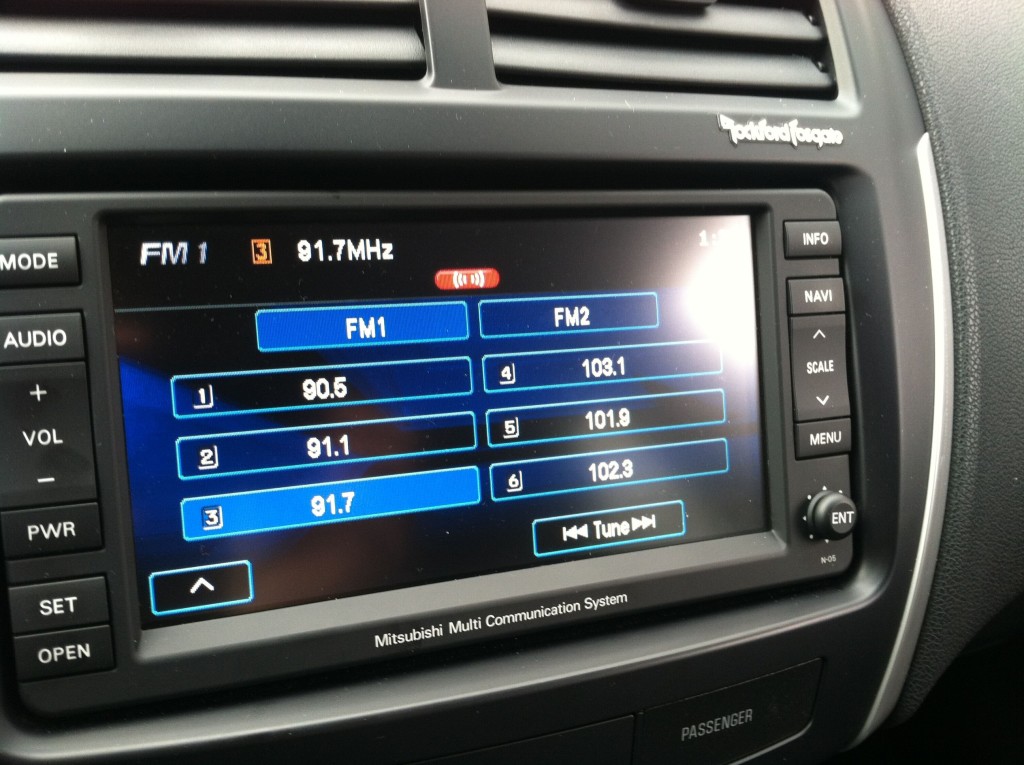 Satellite radio – I avoided it but my husband liked being able to listen to CNBC and buisness news in real time listen to the programs
Nice stereo system! Hidden CD Player…see video above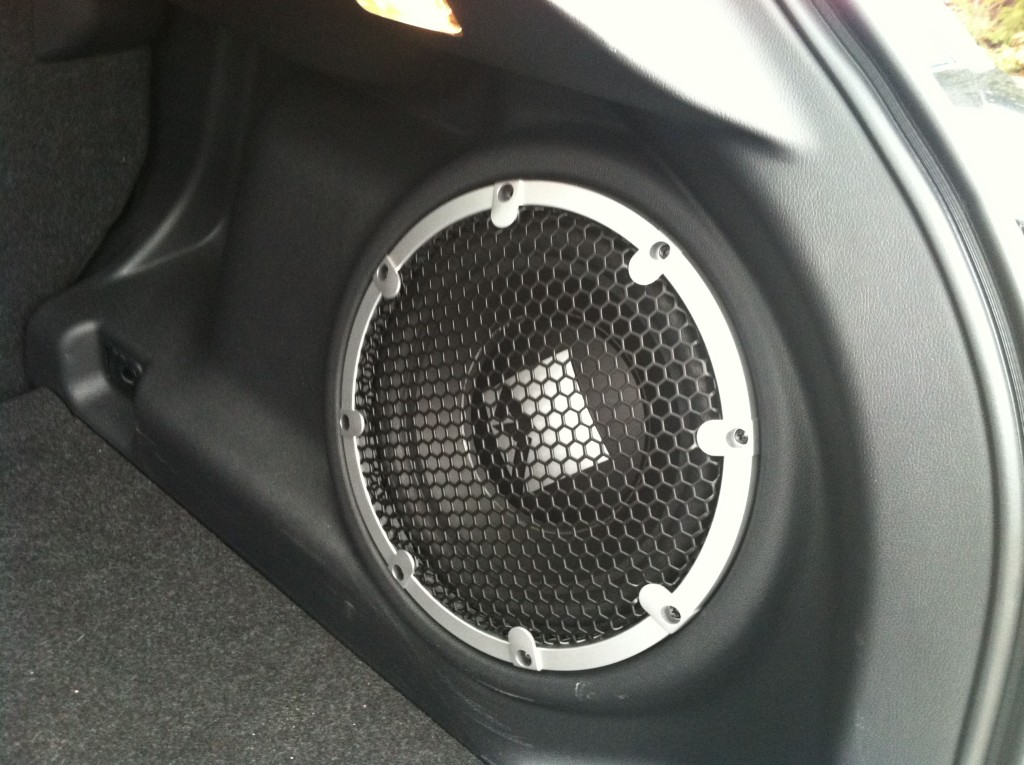 Heated front seats! I liked the back heat especially
This little car had a decent amount of trunk space considering its size. I was pleasantly surprised and was even able to transport 4 bags of horse feed, as well as 5 bags of chicken feed. Not all in one trip, though I probably could have, it just happened on two different shopping excursions.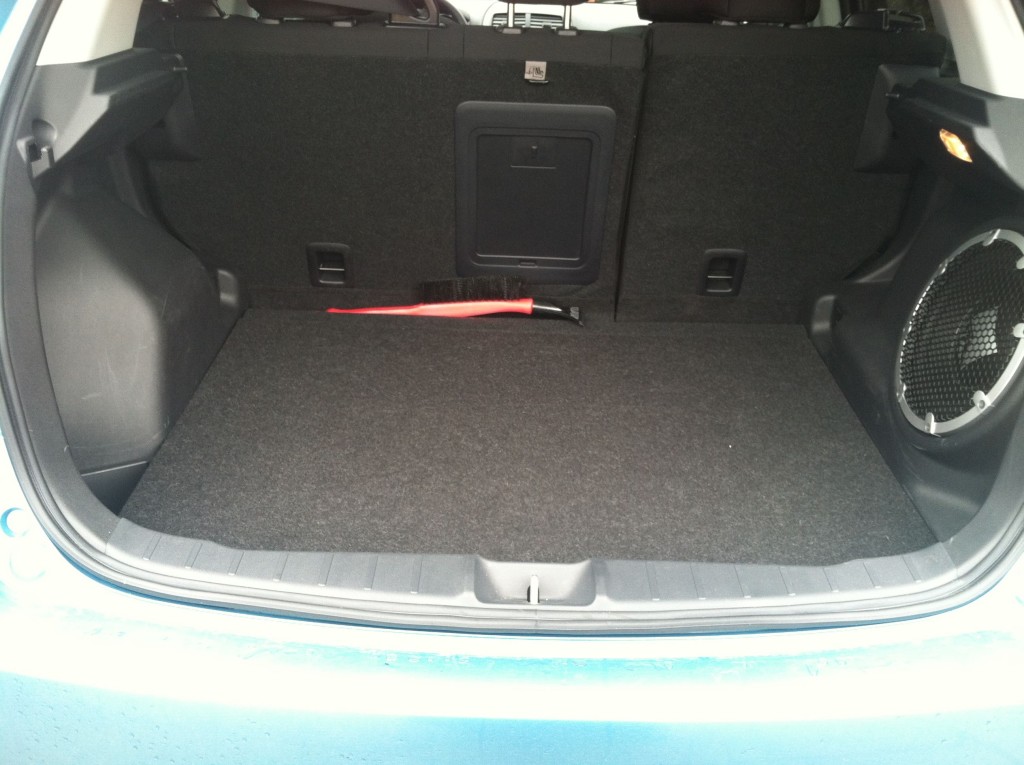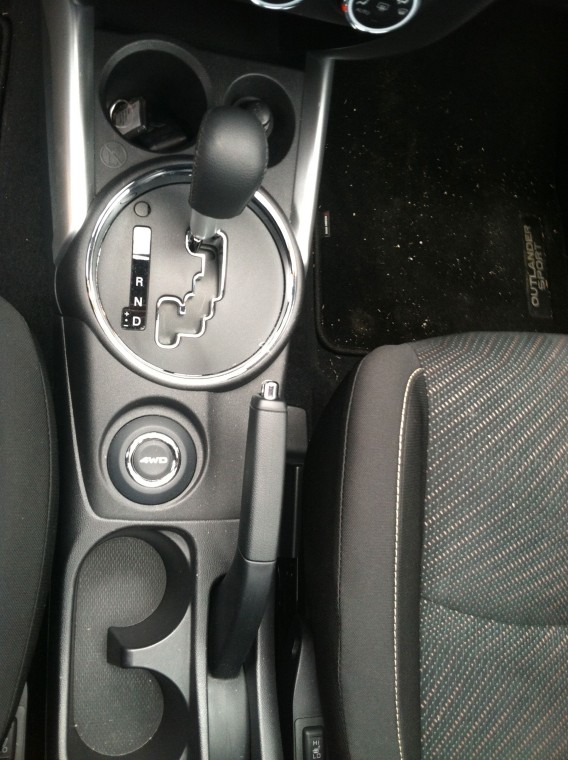 Funny story about my first day driving the 2013 Mitsubishi Outlander Sport….I've been driving since I was basically 16 and know all about a gear shift, right? Well, the first time I drove the Mistubishi Outlander Sport I drove in second gear! In the picture above you'll see how the gear shift is jagged rather than straight. It messed with my head royally. lol! I wasn't even looking at the dashboard to see the P, D, R, N, 1 or 2. My daughter and I were wondering why on earth the car was so loud. Yes, I was completely oblivious that first day. I finally clued into the fact that I had the gear shift in second gear and laughed. Gave my husband a laugh too. Certainly a blonde moment.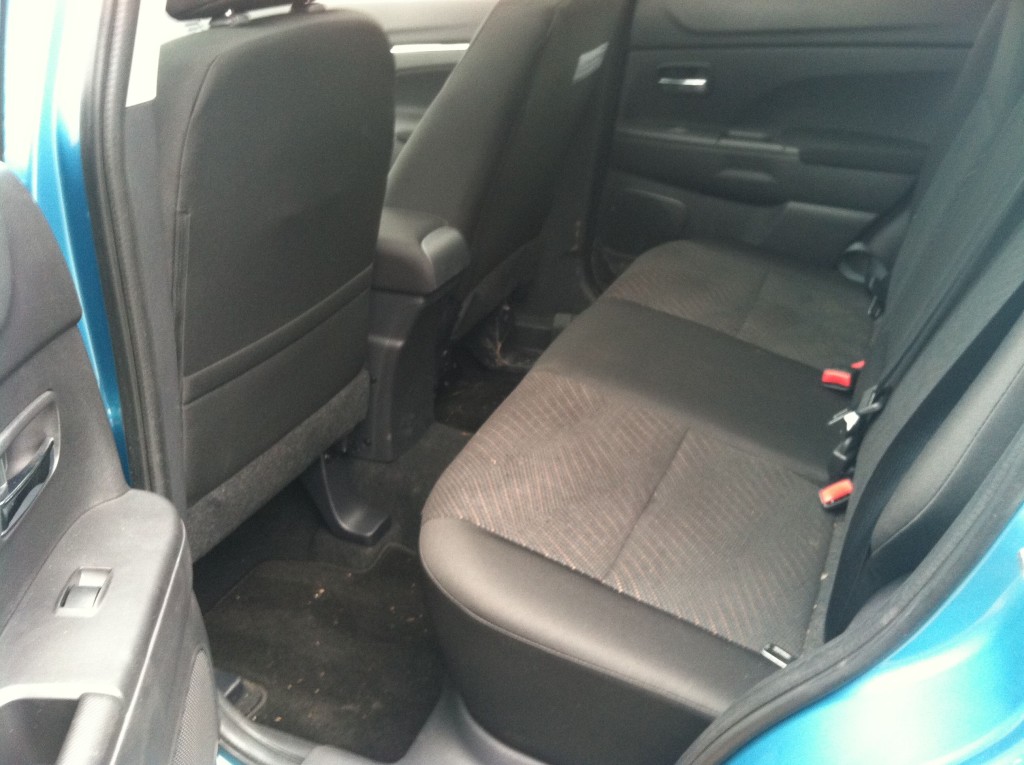 Additional Specs for the 2013 Mitsubishi Outlander Sport
Comes in six fancy colors: Quick Silver, Mercury Gray, White Pearl, Laguna Blue (my favorite), Rally Red and Labrador Black.
26 MPG average fuel economy. 24 MPG city. 29 MPG highway. $1350 savings in fuel costs over 5 years, compared to the average new vehicle. Or $270/year.
Has a 7/10 Fuel Economy & Greenhouse Gas Rating. Only a 5/10 Smog Rating.
It has an 4 star government safety rating.
It has a 60/40 split fold down back seat, with a very easy to push button.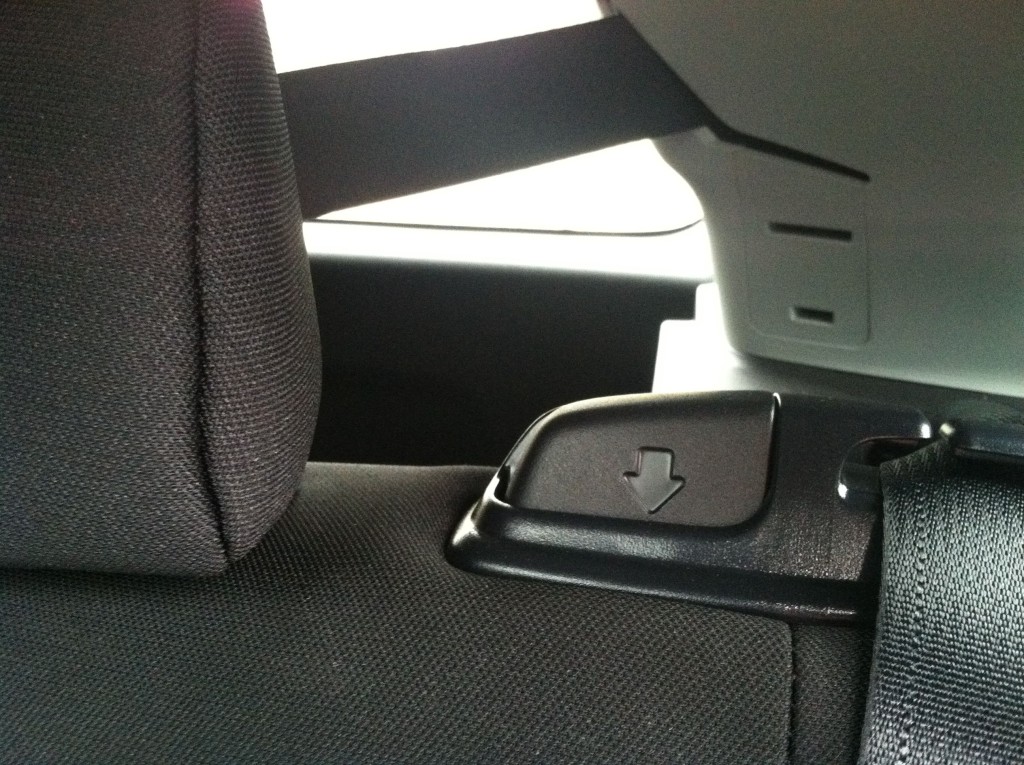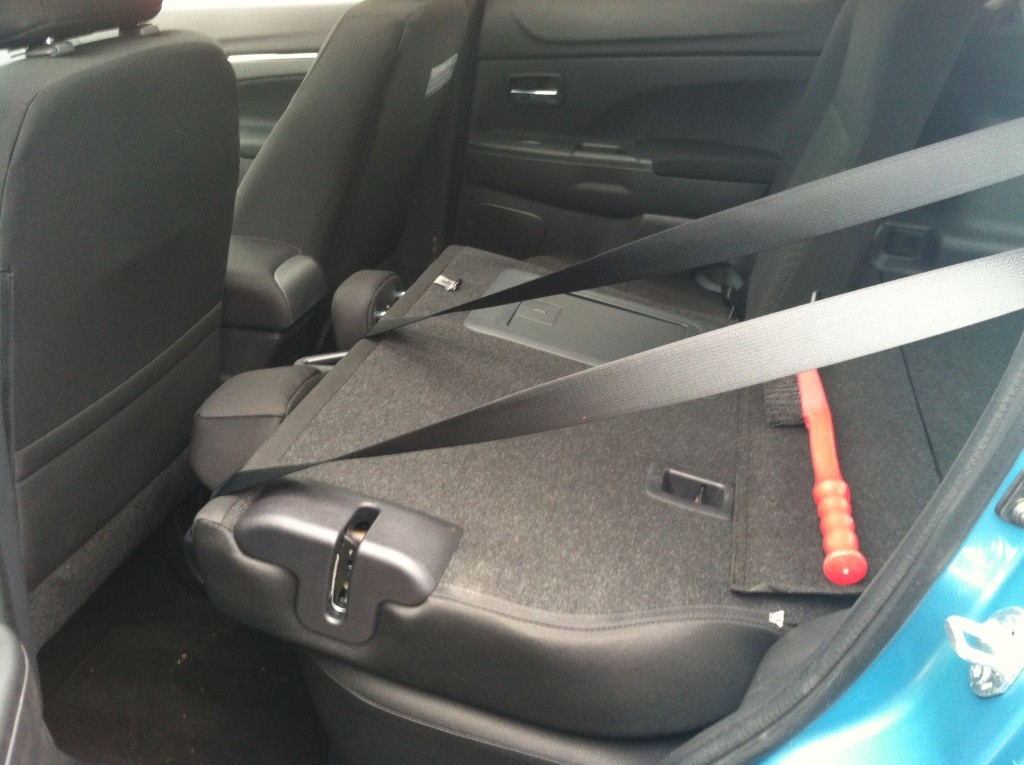 A nice two cup console in front and back seats.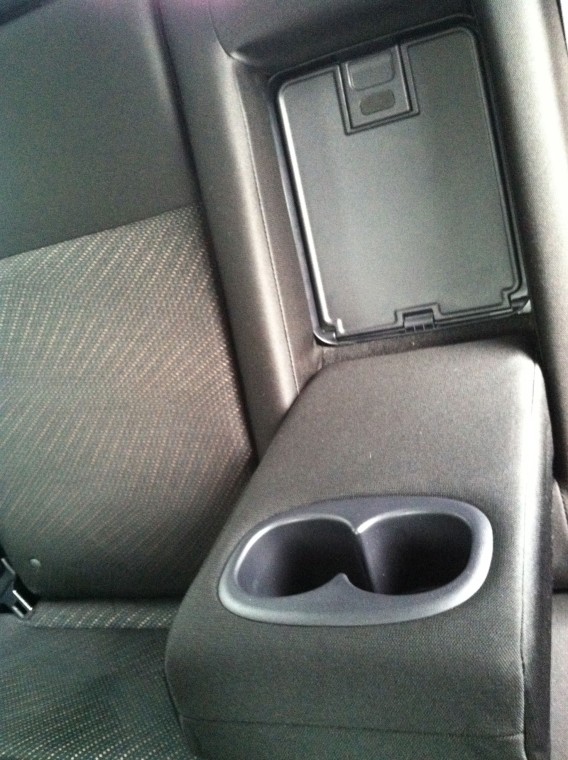 Rear camera for backing up, which my nine year old son loved making faces in and asking me if I could see him!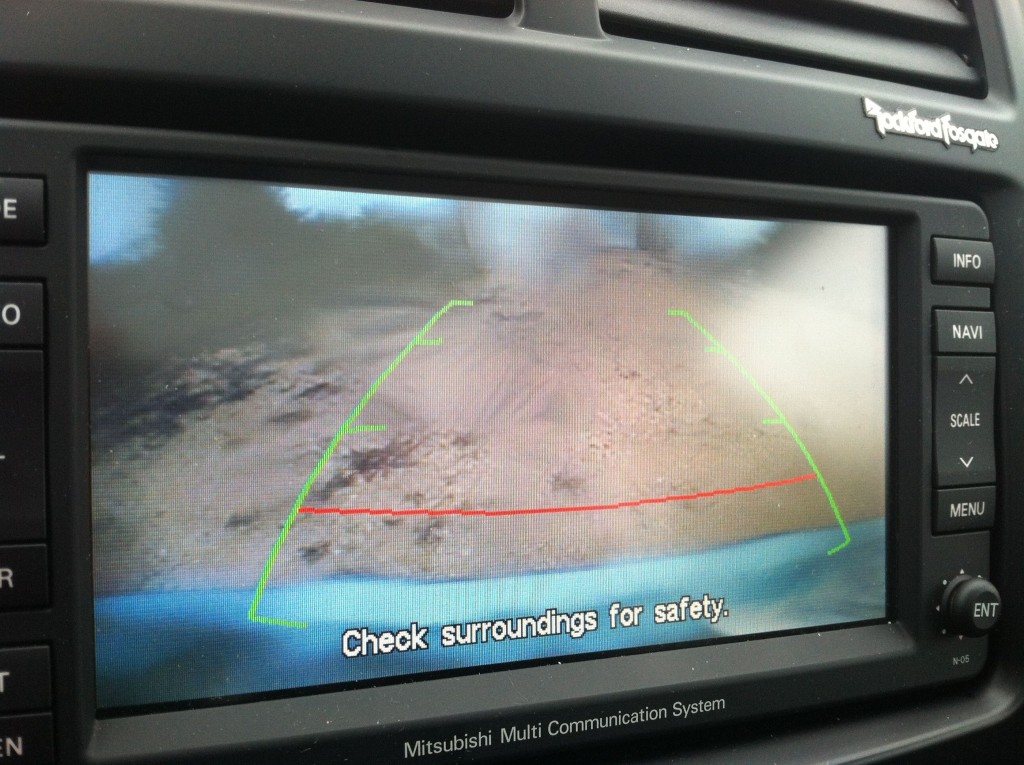 Large sunroof with running lights, very cool at night.
Heated sideview mirrors, which I completely missed using.
Handsfree link system with USB port, which I didn't use this time around.
Auto-dimming rearview mirror, which is another feature I completely neglected to use!
Anti-theft alarm system, which actually went off on my son once!
Active Stability control
Plus a whole slew of options and features that will be listed here:
www.mitsubishicars.com
I loved driving this little car. That's the thing, it is little for our family as it only seats five. We'd need two of them to seat all of us!


Editor's note: I originally called this vehicle a hybrid. It is not. Chock it up to another blonde moment on my part.
I was loaned the Mitsubishi Outlander Sport car for a week with the agreement to feature of it on my blog, this post is done to fulfill that agreement. All opinions and thoughts are my own.
Share and Enjoy