Getting sick of my book reviews yet? Don't worry I won't be reading much more since spring is around the corner.

Choices of the Heart by Laurie Alice Eakes is the third book in The Midwives series. It appears to be about the second generation of Book One. Once again this is an author I am familiar with and have read the other two books in the series. See my review of Book One here and Book Two here.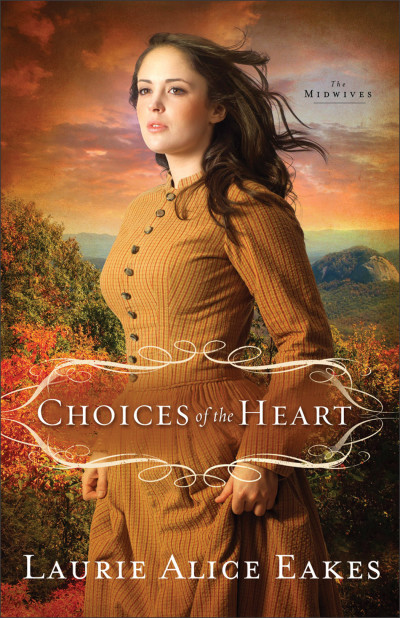 In Choices of the Heart, Esther Cherrett, a midwife, a healer, runs from her past when personal scandal forces her to abandon all that she loves for the sake of her loved ones. The scandal not only separates her from her family but wreaks havoc with her self-belief and her relationship with God. You've heard the saying that hard times either draw you closer or put a distance between you and God. Well, it's a matter of choices, thus part of the reason for the title of the book Choices of the Heart.
I loved how more details of Esther's healing gift were shared in this book, if you remember in Book One I complained there were not enough midwifery details. Remember I was a former midwifery student….some day….maybe.
Esther possessed a lot of strength to leave everything that was familiar to her and to start anew in a foreign place without all the necessities she was use to with her privileged upbringing.
What I didn't like about the book is the blame put on Esther, by herself and others. Perhaps it was a reflection on the time in which the book was set but still it didn't set well with me. Inside I was screaming, "Don't blame her/yourself!" You know how we all can belittle ourselves into almost nothing over silly mistakes or misjudgments? That's exactly what happened to Esther.
The romance part wasn't as predictable yet it was. It was a typical love triangle in which Esther had to choose. I was guessing for quite a while as to who she was going to choose and Esther was tempted again to run from her troubles.
The family feud aspect of the book had me guessing too. I was rather surprised at the culprit's identity and results of the feud.
I really liked Choices of the Heart and give it two thumbs up.
"Available January 2013 at your favorite bookseller from Revell, a division of Baker Publishing Group."

Faith and Family Reviews received the following product in exchange for writing a review. While we consider it a privilege to receive products to review, our reviews are our honest opinion and thoughts of the product.
Share and Enjoy