Faith and Family Reviews received the following product in exchange for writing a review. While we consider it a privilege to receive free products to review, our reviews are our honest opinion and thoughts of the product.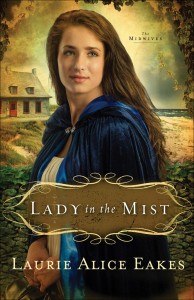 I have been interested in birth since my first child was born. My interest in midwifery and home birth probably began at about the same time. However, the journey took several years to lead to my husband and I to experience our first home birth, and that was after having five children in the hospital and three miscarriages. So when the announcement of another Revell blog tour arrived, Lady in the Mist by Laurie Alice Eakes, I was definitely interested. As the first book in The Midwives series, this historical novel explores themes of identity, misperception and love's discovery.
I really liked Lady in the Mist, but it was more about Tabitha, the midwife, her losses, relationship with God and her love life. Not about birth and midwifery, per se. The book did deal with the lifestyle of a midwife, how the community in that time period viewed a midwife (early 1800s) and a bit of history of Tabitha Eckles' family with its legacy of women serving as midwives.
What I took most from the book was Tabitha's struggle with God. After the losses she faced, she turned her back on God and stopped attending church. She was deeply hurt and unsure of how to go on with her life other than serving as a midwife. Not only did Tabitha struggle with her relationship with God but so did two other characters. Each of them were on their way back to Him, but it greatly depended upon the people, the circumstances of their lives and how each of them responded to the way God was dealing with them individually; that determined what role God ended up playing in their lives.
Lady in the Mist is filled with understanding of the human heart, intrigue and romance at a time in history when war was nearly imminent each day of these characters' lives.
"Available February 2011 at your favorite bookseller from Revell, a division of Baker Publishing Group."
Share and Enjoy