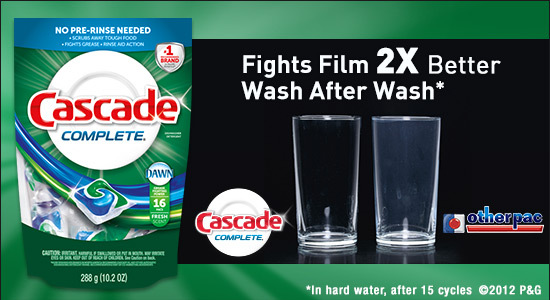 Over the weekend I blogged about January is Organization Month. In that post I shared my cleaning and my organizing wish list for certain rooms of our home, but neglected to mention my kitchen cupboards and hutches, which almost need a weekly or at least a monthly going through to stay on top of the clutter. Mostly because the children put dishes away.
I've been blessed to have a dishwasher most of my adult life. Spoiled, I know! I generally know what dishwasher detergent works and what doesn't. You know those brands that leave a residue or leave food on your dishes? It's sad to admit but since using one particular brand and the children being in charge of loading the dishwasher I have come to accept dirty residue as a part of my drinking pleasure. Ewwww! You say? Yeah, so does my husband. I just got tired of having to clean a glass before I got a drink so I started to skip that step.
However, I definitely have my favorite dishwasher soap brand(s). Cascade being one of them and no I'm not just saying that for the sake of this post. I have yet to find a good organic, eco-friendly brand that works just as well, unfortunately. Then recently I was able to try Cascade Complete Pacs. They are a little rectangle pacs of dishwasher soap detergent you pop into the dishwasher with no mess, spills or harmful odors emitting from it as it does with dishwasher powder. This was the first time we've ever tried a dishwasher soap pac, that I can remember anyways.
Cascade Complete Pacs
provide an immaculate clean without wasting precious time and water pre-rinsing 24-hour stuck-on food messes. Over time, Cascade Complete Pacs fight hard water film two-times better, wash after wash, than the next leading premium pac.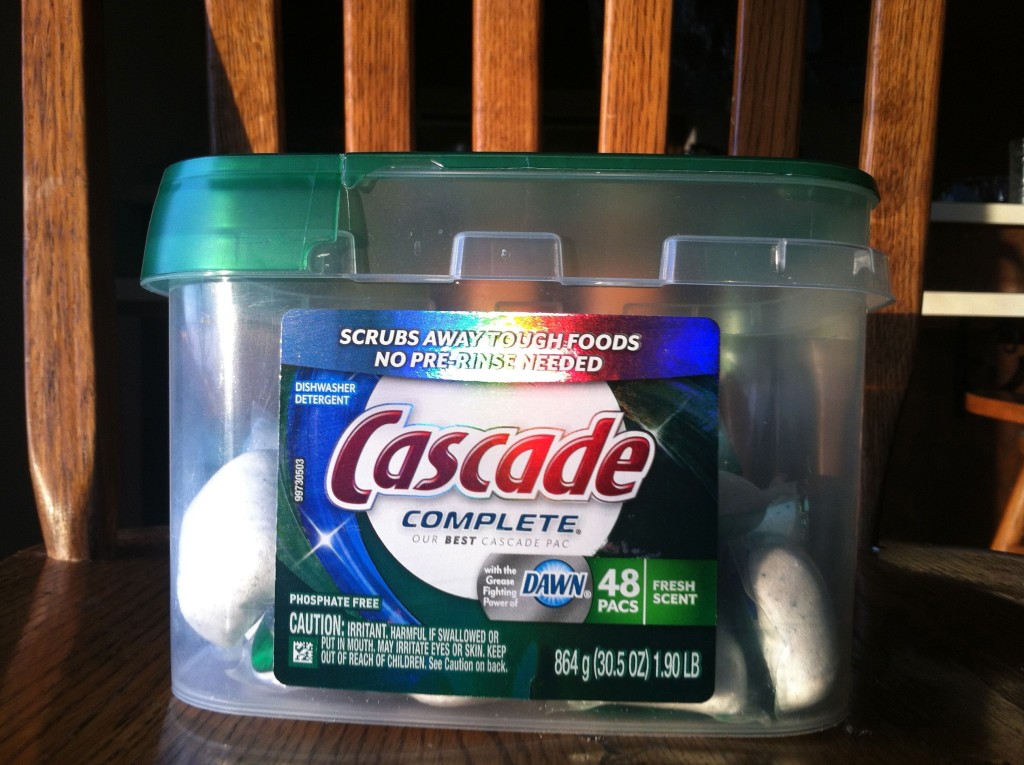 I was excited to try these little pacs. They worked so well that we bought the largest container we could find! Yes indeed these little pacs had our glasses sparkling and our dishes cleaner than they had been in months and it was a change we wanted to continue seeing after running the dishwasher…..We'd been using another brand's eco-friendly dishwashing soap, which obviously was not doing it's job, and we can stop blaming it on the children's method of loading the dishwasher too!

Need I say more? We really like the Cascade Complete Pacs.


"This blog post is part of a paid SocialMoms and Cascade blogging program, and I received free product from P&G for participating. The opinions and ideas expressed here are my own. To read more posts on this topic, click here."
Share and Enjoy