Whole Fruit Sorbets are an award winning member o the Whole Fruit Line by J & J Snack Foods. Whole Fruit Sorbets are made with chunks of real fruit and bursting with refreshing taste. Whole Fruit Sorbets are available in five flavors: Mango, Black Cherry, Raspberry, Strawberry, and Lemon. Voted Best Flavors by Cooking Light Magazine!
Naturally Fat Free
Full 16 fl. Oz. Size pint
Smooth and creamy taste
Refreshing, unique flavors.
We found that Whole Fruit Sorbets live up to their reputation! They are so YUMMY! The Raspberry and Lemon were by far the children's favorite! Those flavors did not last long in our house! The other flavors are just as yummy…although I did find that the sorbets were great for a Holiday punch! Just mix ginger ale (we used the cranberry ginger ale) with the raspberry sorbet for a wonderful holiday or any party punch! Recipe for larger parties (4 liters ginger ale & 1 gallon Whole Fruits Raspberry Sorbet)
Here is a different smaller Holiday recipe:
Raspberry Sorbet Punch
3 Cans Hawaiian Fruit Punch
1 liter 7 up or ginger ale
½ qt Whole Fruits Raspberry Sorbet
I am sure that the above recipes can be used with any of the Whole Fruit Sorbet flavors… we are just partial to the Raspberry.
If you are not into a party punch…then Whole Fruit Sorbet can be delectable as a way to cleanse your palette during a formal holiday meal…or as a dessert item at a informal holiday gathering! In any respect Whole fruit sorbet makes a great presentation at any meal!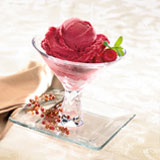 Check out the JJ snack brand and their whole entourage of products at this link:
Check out the Whole Fruit line at
www.jjsnack.com/wholefruit/home1.aspx
You can also check out Whole Fruits on facebook at:
 Faith and Family Reviews received the following product in exchange for writing a review. While we consider it a privilege to receive free products to review, our reviews are our honest opinion and thoughts of the product
Share and Enjoy