Reverse Charades ~ Junior Edition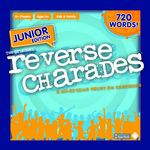 Reverse Charades is a hilarious twist on a classic stand-by (where one person acts out words for the team to guess ~ boring)! With Reverse Charades, the entire team has 60 seconds to act out as many words as one person can guess. It is fast paced, fiercely fun team competition that is an absolute riot with families. work teams, school groups, party-goers or among a few close friends. But be warned… you are in for big ad dangerous does of fun!
Contains:
360 double-sided word cards
sand timer
instructions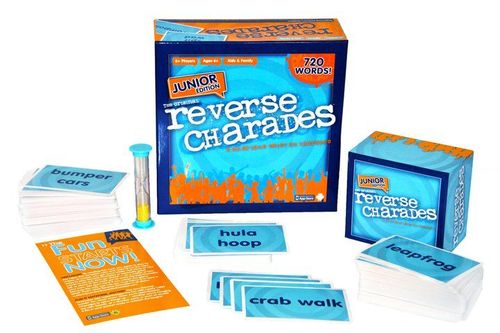 Basic rules (from the publisher):
1. Split into teams of three or more. Decide on a number of rounds or a point target to win.
2. 1 word guessed correctly = 1 point. Each team has one minute to guess as many words as possible.
3. Each team selects a guesser (everyone gets a turn) and the rest of the team acts out the words.
4. Shhh! Not a peep among the team members.
5. Ready, set, go!
720 words, for 6+ players ages 6 and up, geared towards Kids & Family.
Our Review:
This was a great game for our family. We brought it to Thanksgiving at my in-laws …and played it with everyone! We played with a total of 4 teams ranging in age from 4 – 65. It really was a great game for everyone.
I am sure you are asking exactly what is "junior reverse" charades. Basically it is the same thing as original reverse charades except it is geared towards children and family. For both versions of reverse charades the concept is very similar to the traditional version of charades… EXCEPT that the "team" acts out the word or phrase and only "one" person guesses. The game is only a slight change to the traditional game but LOADS of fun!
One thing we liked was the "boxed" format. Usually we play charades with everyone throwing ideas in a bowl and one person choosing from what everyone has written…then one person is the timer and so on. With this game everything is done for you (except acting out the silliness). We liked the addition of the double-sided word cards and sand timer…it took the hassle and thinking (time it takes to think of something to put in the bowl for the opposing team) out of the game!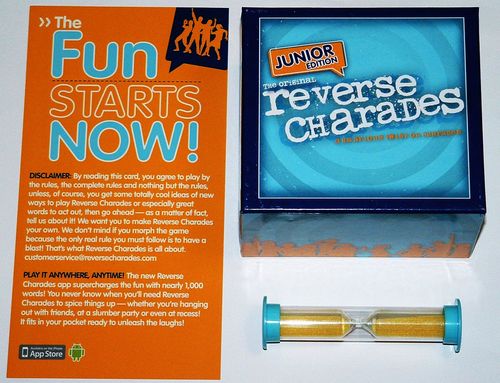 This game will give us material to talk about for years! Everyone had fun with the silliness of the game. I actually think the adults had just as much fun as the kids laughing and acting out fun scenarios! We sincerely endorse this game if you are into silly family fun! If you have a family game night …this should be on your shelf!
For more information on the game and other products please visit: http://reversecharades.com/about-us/
Don't forget to enter our Reverse Charades Review and Giveaway to win your own Reverse Charades game!
Faith and Family Reviews received the following product in exchange for writing a review. While we consider it a privilege to receive free products to review, our reviews are our honest opinion and thoughts of the product.
Share and Enjoy