A monthly maintenance talk with my girls is something I am still working on. Usually they just come to me with their questions or respond if I ask them questions as pertaining to any issues that come up. They also have their book on "maidenhood" they can refer to, but I don't know how often they do that since we started going through it a few years ago in preparation of their monthly cycle and I think we have basically covered everything in it.

I have also told them about and shown them www.Kotex.com/tween as this is a site to use for reference for facts about puberty, FAQs, help for us moms to know how to start talking to our girls, as well as tools like a calendar. There is also U by Kotex website page for period questions for both tweens and teens. As much as I love having resources available, my preferred method of passing information along to my daughters is by talking directly to them. I just like being the first source of important information for topics like puberty, menses and sex education.
Monthly Maintenance Talk With My Girls
When issues have come up like the girls asking how to deal with blood overflowing onto their panties, I have told them to double up on pads for heavier days or use a larger size maxi pad or a maxi pad with wings. Each girl has to find out what works best for them.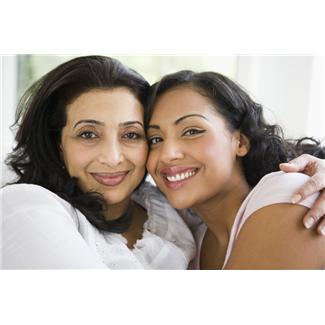 I have tried to encourage my girls to keep track of their cycles with a calendar but it's slow in coming. My reasoning is so they know when their moodier times are going to hit so we can all prepare for it. I am not always good about this myself and it isn't until my period starts that I realize my emotional week was due to the onset of my period. This is something I have to work on with them and it will mean developing new habits for all of us.
Hygiene really hasn't been an issue for us. My two older girls have been very good about that. My third daughter I suspect will be different just because her preteen years have been so very different than the other two. The other two I really didn't have to tell them to start showering more often. My three preteens I have to tell them to shower.
Cramps and discomfort is a topic I think we do talk about every other month, it just all depends on how uncomfortable the girls feel. I do allow them to rest more on the days cramping is bad. At the same time I do want them to know they can still function even amidst their discomfort, so it all depends on how long they have been on their period and how long the cramping lasts. I think it's good to realize everyone has their own pain tolerance and allow some wiggle room without becoming a "commando" mom.
How do you educate your daughter on the discomforts of her monthly cycle? Or how do you think you will if your daughter is still too young?
"I wrote this review while participating in a Brand Ambassador Campaign by Mom Central Consulting on behalf of U by Kotex Tween and received products to facilitate my post and a promotional item to thank me for taking the time to participate."
Share and Enjoy