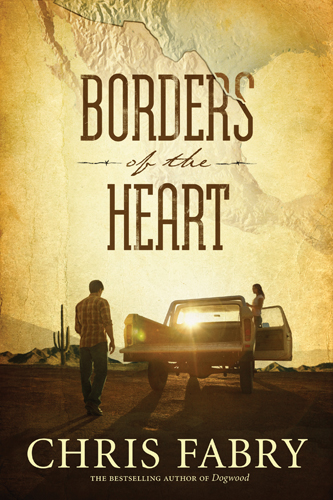 Borders of the Heart by Chris Fabry is a fast moving novel of intrigue and mystery from start to finish.
Book Summary:
Desperate to escape haunting memories, J. D. Jessup travels from Nashville to Tucson and volunteers on an organic farm. The hardened landowner has one prevailing rule: If J. D. sees an "illegal," call the border patrol. But when an early morning ride along the fence line leads him to a beautiful young woman named Maria, near death in the desert, his heart pulls him in another direction. Longing to atone for the choices that drove him to Tucson, J. D. hides her and unleashes a chain of deadly events he could never have imagined. Soon they are running from a killer and fighting for their lives. As secrets of their pasts emerge, J. D. realizes that saving Maria may be the only way to save himself.

Borders of the Heart by Chris Fabry Review
I really liked how Mr. Fabry created the story around a WWOOFer (World Wide Opportunities on Organic Farms – people who travel around working on different farms in exchange for food and lodging) working on an organic farm in Arizona. Though much of the story took place off the farm.
It really made me feel uncomfortable reading the stark realities of the racism illegals and immigrants faced through J.D.'s. I understand somewhat where it stems from yet at the same time they are human beings too.
I thoroughly enjoyed how the story kept me riveted to its pages as I tried to read faster to figure out what mystery surrounding Maria's story, not to mention J.D.'s and how all the drama of their few days together would turn out.
The book is divided into Thursday, Friday, Saturday, Sunday and December. Those four days seemed like an eternity and I was in awe of all that happened to J.D. and Maria in the span of one day, let alone four.
This is a great book for mom or day or even older children. Two thumbs up from me!
Watch the Book Trailer:
http://www.tyndale.com/x_products/videos.php?flv=BotHTrailer_v1sm.flv

Faith and Family Reviews received the following product in exchange for writing a review. While we consider it a privilege to receive products to review, our reviews are our honest opinion and thoughts of the product.
Q & A with Author Chris Fabry
Q: Your newest novel, Borders of the Heart, addresses heavy topics such as illegal immigration, the U.S./Mexico drug trade and the cost of compassion. Where did you get your inspiration for the book?
A: Our family moved to Arizona in 2008 and since then I've known I wanted to write about this area of the country, a rich, desert existence with problems and possibilities. This book is not as much an "issue" book as it is a book about people who have to deal with lots of those issues as part of their daily lives. I don't have an ax to grind on the topics, but I did want to show how real people are affected by these contemporary topics.

Q: Several of the characters in Borders of the Heart are dealing with things from their past. What lessons do your characters learn along the way?

A: The past is huge for each of us. I'm convinced many are "stuck" by something in the past that holds us back from being all God wants us to be. A reader will walk through that process with the main character, J.D., and I'm hoping they'll see an authentic struggle.
Q: J.D. Jessup is faced with a very difficult moral dilemma when he weighs the decision to follow his boss' very clear direction or his own heart when he discovers Maria near death. What lessons does this story provide for your readers?

A: Every choice we make in life comes with a cost. If we say yes to one thing, we may have to say no to something else. The choice J.D. makes is a good choice, and even good choices can lead to disastrous and deadly results. Can you believe that God is involved in even the difficult circumstances? I think that's a huge reveal in this story for me. Does everything have to work out perfectly in the end in order for God to be glorified?
Share and Enjoy