Yippee! Doing the happy dance! We got our very first farm fresh egg from one of our hens today – thus the title of this post…..egglicious! Our hens are officially 22 weeks old this week. We've been waiting and waiting. I was starting to get worried so I did a Google search and found a chicken forum (yes there are chicken forums too!) and some people had to wait up to 30 weeks for their first egg! To be honest that made my heart sag at the thought! That's why this is a happy occasion!
In regards to our first egg, our oldest son asked if he could eat it!

Always thinking about food that one. I wonder if he remembered to eat it? He didn't and he's too late because our third daughter Oms named the egg and wants to keep it …slight problem(s) with that idea, but she's cute for coming up with it. Think she named it Hammy.
Just so you know this is a very good sized egg for the first one…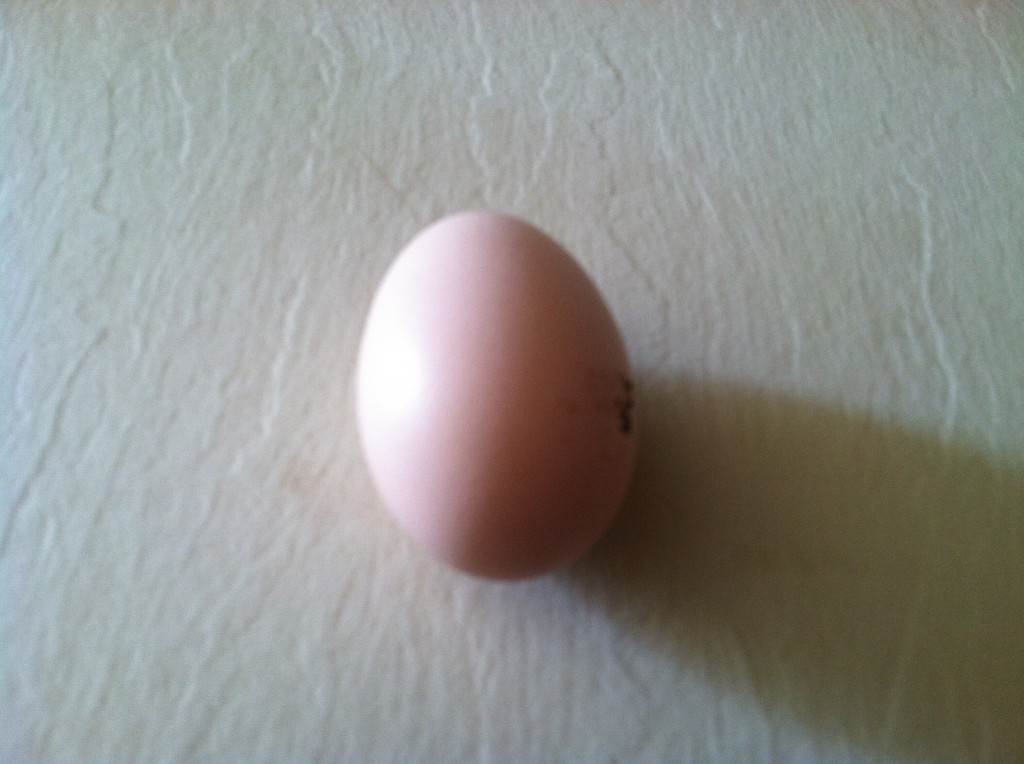 Some pullet eggs can be very small and I'm sure we'll have our share of them. I don't know if any of you care, but I am sure we'll be comparing sizes and trying to figure out which hens are laying the best eggs. For those will be the ones we'll want to hatch out new chicks from! Hoping to start that in December once we figure out which hens are the broodiest (if that's even a word), as the broodier the better they will be at hatching out eggs. If you aren't sure what broody means, it's simply how well a hen likes sitting on her nest of eggs.
Now, if only the other 30 hens would get "cracking"….heehee pun intended….and give us an egg, we'd be in business. Literally, because we should get about an egg a day from them, which of course may vary now that there's less daylight. That means about 17 dozen eggs a week! Our girls want to have an egg business and I want an egg business so we will be working on rounding up not only eggs but customers too!
"I'm so excited and I just can't hide it…" Name that song? And isn't that an 80's song all of you Momdotters/Brandcation attendees?


Share and Enjoy