Back in August we participated in a Polly Pocket campaign, to review product. Well, this is PART 2! The campaign is still going on and we received more products to complete our Polly Pocket review!
Polly pocket continues to delight my children. The dolls are not too large and store nicely. In this portion of the campaign we received the Polly Pocket Playtime Pet Shop Play Set and a Polly Pocket DVD.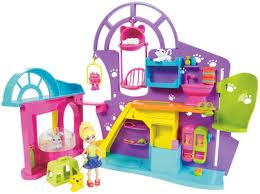 The play set is very nice and I love that it folds up when not in use. It is a bit larger than the other Polly pocket sets we received but the girls LOVE it! My girls especially love that it is a pet shop… they love animals! When we initially got the set the girls went and pulled out all of their Polly pocket sets and made a little village with the new set and all of their previous sets. It was so nice to see them playing together. Since we received the product the girls are STILL playing with Polly pocket the only difference is the toys have moved from the living room floor into their bedrooms, but no difference in excitement and play. This is so nice to see from a mom's point of view; I love seeing my children getting along and playing nicely.
One other item we received was a Polly pocket DVD. This was a cute little DVD that shared short clips of Polly in action…the cartoon Polly pocket. My daughters wanted to know if she had a full-length movie out so they could go rent it. They really liked the animated version of Polly.
Overall this was a great campaign packed full of great products that kept my children entertained and let their imagination run wild while playing with the play sets! Thank you Mattel and Polly Pocket!
"I participated in a campaign on behalf of Mom Central Consulting for Mattel Polly Pocket. I received a product samples and a promotional item as a thank-you for participating."
Share and Enjoy