It always amazes me that characters, TV shows and movies that I watched as a kid are usually loved by my children too. From Spider-Man and McGyver to Sesame Street and the Muppets. I always loved Kermit the Frog. How about you? Speaking of the Muppets we tried a new app this week, Band-Aid Magic Vision. This is an app to use on your iPhone 4, iPhone 4S, iPad2 or iPad3. It as a tool to cheer up your child when they get an owie. If you like Kermit, Miss Piggy, Gonzo and the rest of the Muppets, you and your child will enjoy this app.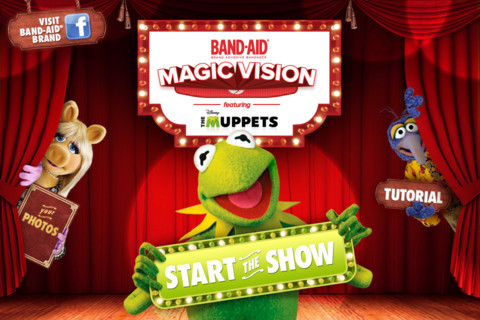 All you do is take the Muppets Band-Aid Brand Adhesive Bandages or the box and scan it with your Apple device and in a "magical" sparkle the Muppet characters come to life. Your child will experience Kermit the Frog swinging while playing the banjo and singing "The Rainbow Connection" song (loved that song as a kid and still love it!). My little people 6 and under just smiled while watching Kermit. My 21 month old especially liked it and his grin was extra bright with the music and song – he loves music of all kinds! If you tilt your device, Kermit will swing back and forth even more! Fun!
Next your child will experience Miss Piggy in all her self-glory on the red carpet. The app allows children to take pictures, which is what Miss Piggy loves – attention! You can also take pictures of the other characters too by the push of the on-screen camera button – don't make the same mistake I did and use the real camera button or you'll close out the app! Yeah one of those mornings!

My six year old enjoyed being able to take pictures the most!
I lost my 4 year old's attention while waiting for Gonzo to load. There seems to be a delay in each character's story. Gonzo gets stuck and with a little shake of your device your child can get him "unstuck". I love the concept of using this app to divert a crying child from his or her owies to the antics and fun of these Muppet characters. After all, haven't all of us experienced an inconsolable child at one time or another after they get hurt?
The Band-Aid Magic Vision application, uses Augmented Reality technology to merge your child's real-life surroundings with graphics displayed on the digital screen to unlock a special world where Disney's The Muppets characters come to life to distract your child from their boo boo.
This app is absolutely free, so download yours today! Available at iTunes.com. Simply search for Band-Aid Magic Vision or click here for the direct link.
Visit the Band-Aid website for more information about Band-Aid Brand Adhesive Bandages www.Band-Aid.com

"I wrote this review while participating in a campaign by Mom Central Consulting on behalf of Band-Aid Brand Adhesive Bandages and received a promotional item to thank me for my participation."
Share and Enjoy