I didn't get to a Monday Motivation post. I was making calls to feed stores, the hatchery and the post office. Our chicks and turkeys are being shipped out this weekend and I remembered we are down to one car and if my husband is at work how am I going to go pick them up at the post office? I really don't want to find some of them dead because I couldn't get there at the right time. Yeah, a slight dilemma to say the least. I am also having a hard time finding a local source of organic turkey feed. Talk about feeling crunched! I was told this one particular place had it a couple of weeks ago and then when I call to order on Monday I was told they didn't have organic turkey starter. We don't want to raise our animals on GMO feed (Genetically Modified Organisms). So I am a little freaked out right now at the thought of not having any feed for the turkeys!

Update on Feed Situation (since this was started on Tuesday AM!)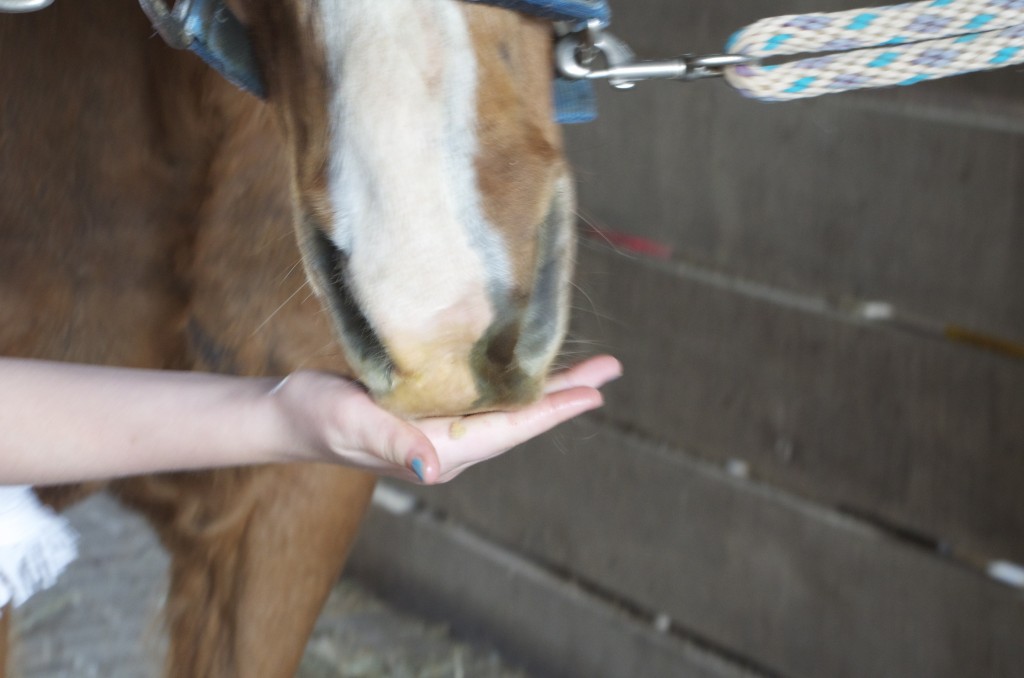 Our horse is not even mentioned in this post, but feed is!
My mind is so boggled right now. I usually pride myself on being organized, well, as much as I can be with 9 other people living with me. Oh sure I procrastinate about filing papers and crunching numbers at tax time because my files are such a mess; but I am a planner by nature and this all has taught me that I did not plan well enough.
Also, I am slightly kicking myself in the behind because I discovered that our turkeys actually arrive April 25-27 – could be today! This realization occurred late yesterday afternoon. We had absolutely nothing ready. Oh my husband had boxes. So, I had to make a run to Farm & Fleet to get shavings for bedding and packing tape to make their chick house, chick/turkey feeders and waterers. Forgot the heat lamps. These are all fairly inexpensive in the scope of things, so we knew we would get these at the last minute due to space issues for storing farm supplies, until we got the garage clean out more and boxes moved to basement storage.
Thanks to the help of farmers in my Growers Group I found a turkey starter source, but have to drive an hour and a half to Wisconsin to get it – today. Plus we have the other chicken feed, rabbit feed and organic soil arriving anytime of the day – today. The turkeys could arrive – today with a call from the Post Office- and I am feeling a little frazzled and am thinking, "What am I getting myself into?" Then I have to remind myself that I want to feed my family fresh, wholesome food without any of the chemicals and other junk they are putting into the food these days. Just think pink slime and you'll understand why I want to get away from purchasing most things at grocery stores. Pretty radical, eh? I know and it's a huge leap of faith too because we are beginning farmers and there's always a huge learning curve. Plus, we want our children to experience animals, develop a good work ethic and a sense of responsibility at young ages so they grow up to be responsible adults. Our girls are well on their way, it's our younger crew that needs the help!

Ha!

Tiller
The other mishap was the fact that we never did get our old tiller serviced last fall. It leaks gas and won't run properly. I had a place lined up, then I look for the email and couldn't find it anywhere so POOF! I had deleted it in a delete happy party. I looked on the brands website and POOF it's no longer listed there either.:-( We really need to get our poor little plants in the ground. So I called one place and they did not have any experience working on our brand of tiller and were…get this TWO weeks behind! Ugh. The other place we are familiar with are pricey, my husband fixed our ride on mower cheaper by doing it himself. He hasn't taken the time to figure out the old tiller, but I know he could. So out of desperation for our plants I looked at new ones, but finally settled on a refurbished one with a nice little payment plan with no interest – bonus.
As as side note, I did look at used on Craigslist too, but didn't find any of the brand that I wanted.
Another case of poor planning on my part. Can you say humbled beyond belief? Yep, that's me. Part of it is poor planning, but also I just didn't believe we would actually get to do all of this and now we are…and I have been…well…unprepared. Ever do that to yourself?
Animal Update
15 Midget White turkeys due to arrive any day now (they are a slow growing breed, most are for our family but I have 1-3 possibly sold thanks to Local Harvest)
40 baby chicks – all laying hens – 26 Buff Orpingtons, 8 Arcaunas, 6 Australorps and 1 specialty that we got free with our order due to arrive between Saturday and next Wednesday
2 bunnies – Java (brown rabbit) and Houdini (black & white and now my daughter wonders if she should have name it that in cases it disappears…) due to be picked up on Sunday
1 puppy – possibly a Newfoundland estimated date of arrival, unknown, but hoping to visit a breeder today
The owner of the bunnies sent us a couple of pictures: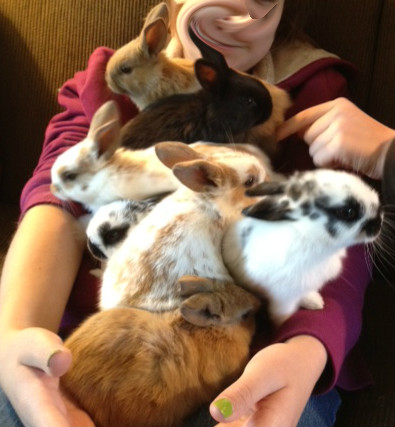 Java is the dark brown one in the back and Houdini is the B&W one facing to the right.
Oy! So here's to my sanity and that I get through the next week unscathed! And I thought I'd just wet my feet with animals this summer….Ha!
Share and Enjoy