I love comfy clothes. Unlike my oldest daughter, I usually go for comfort over fashion, that's not to say that I do not like nice things, I do. I just happen to like them to be comfortable while looking good. My mother always said I had expensive taste, which I admit that I do, however, I am also very practical so usually practicality outweighs/out wins my taste. For that my husband and our bank account thank me.

By now you are all wondering what that has to do with Body Bark and comfort and probably asking, "What is Body Bark? Get to the point already!" Ok, if you'll stop shouting, I'll oblige. Hee hee.
Body Bark
Nope, I am not going to recommend that you wrap your body in something but I am going to talk up a wonderful line of Body Bark clothing that is wonderfully comfy. Invented by moms, for moms, the Body Bark is a luxurious brand to make us feel good! This women's clothing line may be worn alone, as underpinnings or a layer piece. It is the missing piece in your closet!
All of Body Barks products are made in the USA. Bonus!
Body Bark Tank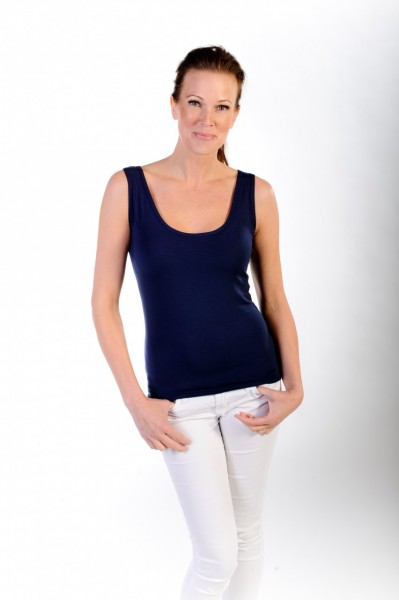 I received a Body Bark Tank in the color navy, size XL to review and it is one of the most comfortbable tops I have worn. It is very soft and fits to my generous curves. "95% MicroModal®, 5% Spandex. The secret to Body Bark's luxurious feel is its natural-fiber fabric derived from beech wood. (Hence the name "Body Bark") Made by Lenzing Fibers AG, the MicroModal® fiber used in Body Bark products is sustainable."
I don't usually wear tank tops so I tried wearing this to bed and loved it! It will be easy to wear this luxurious top beneath other clothing, but I haven't personally tried it yet. Nor have I washed my top yet since I have just worn it to bed a couple of times. So I cannot tell you how it washes up.
It fits me great and falls a little past my hips because of my short stature, but is actually the length I prefer.
Prices are on the higher side, but when you think of the money saved by wearing Body Bark under other clothing, eliminating putting those clothes in the laundry pile and your dry cleaning bill will be lower when you wear a Body Bark piece beneath a dry clean only article of clothing. Added bonus, eh?
Mompact is offering a giveaway package, which includes one Body Bark product so be sure to enter if you want to try this luxurious top too!
Special Giveaway
This giveaway is sponsored by Mompact.com :
"I received this review opportunity as part of Mompact.com. All opinions are my own."
Share and Enjoy