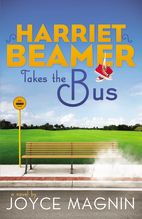 Aging and recent widow Harriet Beamer insists she's getting along fine with her dog Humphrey in Philadelphia … until she falls for the fourth time, injuring her ankle, and causing her son and daughter-in-law to cry foul. Insisting Harriet move in with them in California, they make a bet that her ankle is broken, and she foolishly promises to move if they're right. Four x-rays later, Harriet's ankle—and her heart—are broken. She packs up, ships her huge salt and pepper collection to California, and prepares to move away from the only life she knows. The only catch? She's doing it her way. Just wait till her daughter-in-law hears Harriet will travel cross-country only by public transportation and alternate means. What follows is a hilarious, heartwarming journey by train, metro bus, ferry, and motorcycle. Along the way, Harriet discovers that although her family thinks it's time for her to be put out to pasture—God has a different plan.
Our Review:
I have to admit that the title of this book did not thrill me…it was intriguing but not enough for me to open the book right away to devour the pages. However, after reading the book I can honestly say I truly enjoyed the story woven by author Joyce Magnin.
I do have to say that the book is not a book that I would stay up nights reading but yet a good book to read at my leisure times! The book is full of fun and surprises from the heroine Harriet. I enjoyed the people and places that Harriet got to visit on her adventure. The author writes in such a descriptive tone that I could visualize each place Harriet was visiting! One added bonus was the intermingled Christian tones of the book. I found it refreshing to read a book that gave God "props" when due! He is great and well recognized in this piece of literature!
While skimming the website Amazon.com for the listing of the book to see the price (10.98 – pre-order price) I noticed they mention that this is a book from the Harriet Beamer series… I did not know this was a series of books … it looks like this is the first book in Harriett's adventures and I look forward to reading more about Harriet in her future adventures as the series continues!
The book will be available April 24, 2012 and is currently available for pre-order on Amazon.com
Share and Enjoy