We tend to eat a lot of soups and casseroles during cooler days and we've had some cooler weather the past couple of weeks. My husband found frost on the car yesterday morning! We have been working on cleaning up the garage in anticipation for our turkeys arrival on the 18th, so the car has had to sit in the driveway. Gotta finish this project this weekend!
The other night we made barley soup with Knorr Homestyle Chicken Stock. It comes in a package of four little cups, each cup yielding about 3.5 cups of stock. We used all of them for our big stock pot of soup. It was tasty and seriously you could not tell it was packaged chicken stock, but I couldn't imagine using less than we did. We usually use powdered chicken seasoning to make our chicken stock.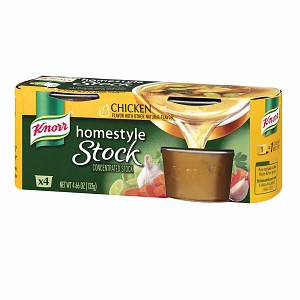 The packaging got thrown out before I could make note of the ingredients so I cannot verify if all of them were on our "good" list and Knorr's website does not seem to list them, which is disappointing. There is no MSG though, so that is a plus! I know I read them when I received the package but am suffering a memory lapse. I had to look them up on another site:
Water, Salt, Modified Palm Oil, Autolyzed Yeast Extract, Sugar, Carrots, Chicken Fat (Adds A Dietarily Insignificant Amount of Cholesterol), Lactic Acid, Leeks, Maltodextrin (Corn), Xanthan Gum, Potato Starch, Garlic, Chicken Powder (Adds A Dietarily Insignificant Amount of Cholesterol), Beta Carotene (For Color), Parsley, Locust Bean Gum, Malic Acid, Thiamin Hydrochloride, Natural Flavor, Disodium Phosphate, Ascorbic Acid, Disodium Guanylate, Disodium Inosinate, Caramel Color, Succinic Acid, Spice, Mustard Oil, Coconut Oil
Not so bad, but Caramel Color, Natural Flavor and can mean many things and may mean hidden ingredients, including MSG, unfortunately.

This is why we need an overhaul done in food labeling!
And I thought we had leftovers so I could take a photo, but it must have been gobbled up because there's not a bit left. As long as the ingredients are ok, I would probably recommend this product for smaller families. Bulk chicken seasoning is more economical and will last longer for larger families, as this little package is $3.99.
Visit Knorr's website for more information about their chicken flavored Homestyle Stock.

Faith and Family Reviews received the following product in exchange for writing a review. While we consider it a privilege to receive free products to review, our reviews are our honest opinion and thoughts of the product.
Share and Enjoy