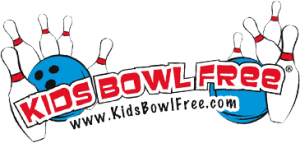 Look what I found this morning!  How exciting!  This is the information I've gathered through Kidsbowlfree.com .  "Registered kids receive 2 FREE games of bowling everyday all summer long".  They mention the value is over $500.00 per kid!  I imagine this would be if you went everyday.  Click on your state in the US or Canada to find your nearest bowling center.
I went to my nearest center and currently they are only taking email address to send you more information for this summer once it's available.
I had questions and went to the F.A.Q.  Most of the answers I found depend on the bowling center itself.  My three biggest questions were what are the age requirements? Do I need to pay for shoes? When is the free bowling? (dates, times, days) Unfortunately, I won't find out these answers until registration opens and I get my email.
They also have a benefit for families!  KidsBowlFree.com has a Family Pass!  For $24.95 (according to their site) for the summer up to 4 adults, get 2 free games person per day also!
This is great family fun time!  I'll update you when I get my email!
Share and Enjoy