The anniversary of when my husband asked me to marry him is coming up very soon. It's ironic because the date he asked me to marry him and our oldest daughter's birth date is within a day of each other. Neat, eh? My husband can be very romantic and the way he asked me to marry him proves that very much.
My husband and I had a long distance relationship for two years. So nearly 18 years ago my husband was visiting from Chicago in my hometown. We had not seen each other over Christmas that year so this was our holiday visit. We had looked at rings on my previous trip to see him, so thinking like a female I wondered if he was going to pop the question on this visit. On the night before he was to return home, which was a chilly winter evening, my husband (or love interest then) asked me if I would like to take a walk, I, of course, said yes!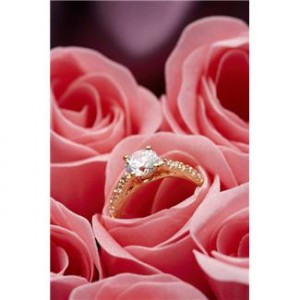 I lived in a small town with very little traffic and there were street lights for most of our walk through town, up and down a few little hills and across an arched bridge. After the bridge it was pretty much pitch black, except for the millions of stars shining down on us. I looped my arm through his and that is when I discovered the answer to my "wondering" for I felt a little square box in his pocket! I was pretty much over the moon at that moment, as I anticipated the question. We walked up what is called the "hospital hill" leaned against the guard rail under a starry sky snuggling close and he asked, "Theresa (and my last name), will you marry me?" I said yes and we kissed!

My ring is a beautiful solitaire. Too bad I don't have a camera that takes decent up close photos or I would take a picture of it….soon the camera situation will change though and yes we did find our camera….on a shelf in our walk-in-closet!?
We had to wait until our next visit when I traveled to Chicago to purchase wedding bands. If the internet had of been as big as it is now, shopping at Men's Tungsten Online might have been an option for us, but alas neither of us even had a computer back then! My engagement ring was part of a set, so we really only had to get my rings sized and purchase his wedding band, a simple band with a comfort fit. Much like the look of the curved sides of these tungsten bands, only in gold. (P.S. MensTungstenOnline.com has some pretty neat looking stuff!)
It was fun looking at rings and having that purchase checked off our "to do" list.
I am grateful that my husband gave us such a wonderful memory of our engagement. What a special trip down memory lane!

Share and Enjoy