I have to admit that I do appreciate having a couple of quick and easy meals on hand for those times when I just do not feel like cooking. One way to do that is to have frozen meals in the freezer, which might include frozen pizza dough or frozen pizzas themselves or something to really warm up with like pot pies. For our family that usually means some homemade frozen gravy and pie dough, cut up cooked meat and some frozen veggies that we can throw together to make a meal. This is a great way to use up leftover turkey, chicken or beef.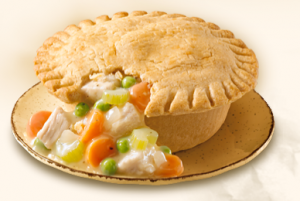 Marie Callender Turkey Pot Pie
We recently tried a couple of Marie Callender's pot pies. We tried the chicken and turkey flavors. They are filled with with white meat, vegetables, creamy sauce and a flaky crust made. They do taste a lot like our homemade pot pie we make from scratch. We did not find much difference in the taste between the chicken and turkey. We enjoyed the taste and appreciated the convenience they offered. These pies do take nearly an hour to bake in a regular oven, although they may be microwaved. Sorry no personal photos…still haven't found our camera….might be an unexpected Christmas present to myself! However, the photos from Marie Callender are pretty accurate and make my tummy gurgle this morning since I have not had my breakfast yet!
Marie Callender's Pot Pie varieties include:
Chicken Pot Pie
Turkey Pot Pie
Beef Pot Pie
Creamy Mushroom Chicken Pot Pie
Creamy Parmesan Chicken Pot Pie
Honey Roasted Chicken Pot Pie
Cheesy Chicken Pot Pie
With cooler weather moving in, all of you busy moms should consider adding Marie Callender's Pot Pies to your freezer. They are easy to pop into the oven after a fun time playing in the snow or skating at the ice rink. A yummy way to warm up!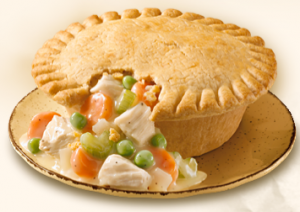 Marie Callender Chicken Pot Pie
Marie Callender's Pot Pies are available for a suggested retail price of $2.10-$2.99 for the 10 oz. size or in the $4 range for the 16 oz. size.
Marie Callender's meals are available in grocery stores nationwide. Product lines include Complete Meals, One-Dish Entrées, Fresh Flavor Steamers, Fresh Mixers, Multi-serve Bakes, Pot Pies, small Fruit Pies and Dessert Pies & Cobblers. For more information, visit http://www.mariecallendersmeals.com
Faith and Family Reviews received the following product in exchange for writing a review and is being compensated by Marie Callender and TheMotherhood. While we consider it a privilege to receive free products to review and compensation, our reviews are our honest opinion and thoughts of the product.
Share and Enjoy