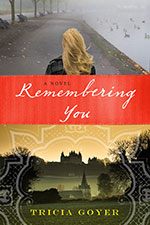 I have to admit that I had a preconceived idea as to what Remembering You would be like – a typical historical romance. I am happy to report that I was wrong. Note to self to insert photo of pie to represent humble pie.

Remembering You is a book with an excellent story line that is more than just about a romance occurring during a historical event. It is about honor, forgiveness, relationships and loving people for who they were, are and going to be.
I love the twists and turns of this tale. I love the honor shown to the veterans and I especially love the grandparent/grandchild relationship portrayed in this book. I love the spirit of adventure this book offers as two war veterans and their grandchildren set out to revisit important places and people representing a time gone by during which they were fighting for freedom from World War II.
Tricia Goyer has provided us with a wonderful story about God's healing power amidst dark times and spiritual redemption for past wrongs. Thank you Tricia!
Tricia is also hosting a Kindle giveaway which ends today and the winner will be announced at her Facebook party, which you are invited to attend.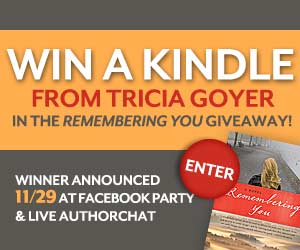 One grand prize winner will receive:
~ A Brand New Kindle Touch and a Kindle Touch for a Friend (winner's choice!)
~ A copy of Remembering You by Tricia Goyer for each
Enter today by clicking the icon above. But hurry, the giveaway ends at noon TODAY! Winner will be announced at Remembering You Facebook Party on 11/29 5PM PST / 8PM EST. Tricia will be hosting an author chat (on Facebook and Live from her website) and giving away copies of her other WWII books and gift certificates to Starbucks and Amazon.com. So grab your copy of Remembering You and join Tricia on the evening of the 29th for an author chat, a trivia contest (How much do you know about WWII?) and lots of giveaways.
Visit www.TriciaGoyer.com/contests.html for complete details.
Visit Litfuse here.
Faith and Family Reviews received the following product in exchange for writing a review. While we consider it a privilege to receive free products to review, our reviews are our honest opinion and thoughts of the product.
Share and Enjoy