Happy Thanksgiving! (Still working on those two posts….)
Living in the country has presented a variety of critters around our place. Back in the summer we were all sitting around the dining room table and got a whiff of skunk through our patio doors. Yep, let's just say that was unpleasant to say the least. From that time on our boys swore (not literally) that a skunk lived in one of the pine trees on our rented property! In reality we have no evidence of a skunk living on our property.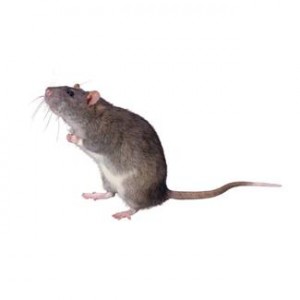 Then we have had some mice visit us. The first made its appearance in the garage, which was quickly vacated by a mouse trap. More recently one was found in our basement. We think the basement mouse was just a visitor because there was no evidence of him being there long…if you know what I mean? (I mean there was no mouse poop/droppings.)
This past week the boys informed me that there was a dead mouse in one of my stainless steel bowls they had used to take out veggie scraps to the compost pile but left the bowl outside….to catch a mouse. Uggh. Just what I need to lose a bowl over. Really. That bowl won't be found in my kitchen again!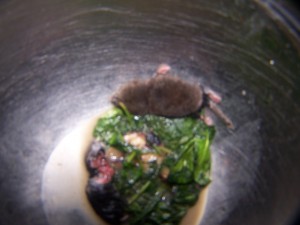 Road Kill Critters
Our road is really, really busy for being a country road and cars go really, really fast. So one weekend morning we woke up and one of the children had gone out to play (yes, they go out all times of the day and night now since there are no neighbors to bother!) and came running back in to say there was a possum dead out front (where the road runs by). Sure enough there was a dead possum almost off the road. Of course, everyone, but me and baby, had to go take a look at the road kill.
I can only imagine what that possum or skunk would have done if we had chickens!
Possum photo to come, but I have to change computers to upload it!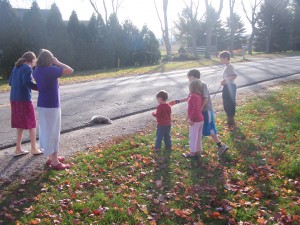 Unwanted Human Critters
The title "Unwanted Human Critters" is more in tongue in cheek than it is to sound mean. Living just 20 minutes from our old town puts us in a whole new culture. Seriously. In our townhouse community, as close as the houses are/were, we could go days without talking to anyone. That is townhouse/suburban culture. Here in the country we have had strangers knock on our door to see if we were selling our chicken equipment. Yes, all because it was in plain view.
Just this week we had a man stop and ask my husband if we wanted to buy his ten chickens because he was moving and needed to sell them. If it had not been fall and we had had our fencing, we might have considered it.
We did not know these people at all.
Then there is the fact that one of our sons decided to roll under our neighbors fence to say hi to their dog making him and unwanted human critter! Yes. Our neighbors on the same side of the road as us are probably an acre or two away and our boys after the conventional soybean farmer had harvested have played out in the acres behind our property (acres we are hoping to rent in the future). Our neighbor came a-knocking to let us know of our son's escapade. Then they inform us their dog is a guard dog and has a history of biting the UPS man or anyone that comes on the property. Thankfully the dog was in its kennel at the time, but the neighbors have a surveillance camera since they have been robbed before and caught our son in action! We are grateful for the understanding of our kind neighbors, but our son(s) both got a talking to about respecting other people's property.
Never a dull moment in the country!

We are lovin' it, in spite of unwanted critters!
Share and Enjoy