We have settled into our new home quite nicely. We have even gone back to being hospitable and have had friends and family over at least four times with more to be scheduled. Yes, we are enjoying sharing our new home with others! I use to love having folks over until we really outgrew our townhouse. It is good to be back into playing hostess again.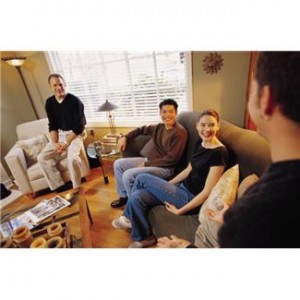 We had our lefse party with family two weeks ago, which was a great hit. We hope to plan a quarterly lefse party into our family tradition. We are playing around with the idea of inviting a different family over for each one. Just thought that it would be fun to share this Norwegian potato bread and tradition with others.
We had our old neighbors over in August so they could see our new home before school started back up and all the chaos going back to school brings. We had a blast with them.
Another friend dropped over to pick up somethings/drop things off, so we gave her a quick tour.
Then yesterday old friends from our college days came over for the afternoon bringing some of their cast offs, which is like Christmas to the children – new (to them) clothes, toys, games (we did two new puzzles this morning since it was raining 100 piece each) and even some canning jars (we canned tomatoes last week with friends and then did some applesauce and jam on our own, so very satisfying!)
There is something special in having people over, don't you think? Our children love it and have missed it, thus the reason for planning more get-togethers because they keep asking, "Can we have so and so over?"

Plus we love it too.
How often do you entertain? Are you planning any fall parties at your home? Would love to hear how you all entertain guests in your home! That is this week's motivation. Being hospitable is actually biblical, what better way to show the love of Christ to strangers and brothers and sisters in the Lord.
Share and Enjoy