About Twin Sisters:
"Fraternal Twins Kim Thompson and Karen Hilderbrand have always been close, and have always worked well together. This company was born out of a love for children and seeing the wonderful look of pride on their faces when they have mastered a concept, and have had fun doing it!
Kim started her career as a classroom teacher. She loved teaching first grade and would incorporate music on a daily basis. My class would sing our spelling words, clap out rhythms, march around the room – all while learning. Many phonemic awareness activities involve music, and I found this to be a really fun and effective way to teach. When I earned my masters degree in "Integrating the Arts into the Elementary School Curriculum,"
I was convinced that music was a powerful teaching tool. I began teaching third grade and while becoming familiar with my new math curriculum, discovered that I would be teaching the multiplication facts. What a challenge! I knew that using music and rhythm would make it fun and easy – so that's what I did. Karen and I worked together and wrote "Rap With The Facts." We recorded our first album with the help of Hal Wright, and that's how it all began!"
Since the beginning, we have been blessed with continual growth. Our MISSION is to be The Leader in Children's Educational Music. We have worked very hard to create excellent products that children will enjoy, and to make learning effective and fun for the lives that we touch through our music.  To get a glimpse of how hard we have been working to be the leader in children's educational music, visit our awards section. www.twinsisters.com/awards"
Twin Sisters Productions offers many children's learning activities.  The kids don't even realize they are learning because they are having fun!
I received "The Number Train Giant Floor Puzzle"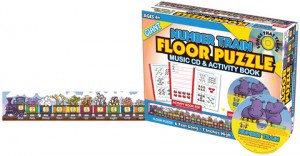 "Young learners will quickly begin to recognize numerals, number words, and number order 1 to 20 with this all-new giant Number Train Floor Puzzle! The 6-foot x 7-inch puzzle features 27 large, sturdy laminated pieces. The Music CD includes 12 songs that teach numbers and counting. Bonus! Print the 48-page Numbers & Counting Activity Book PDF from your own computer! Practice tracing and writing numbers, counting sets, and more!"
Even though my daughter is still a little young for this product (recommended ages are 4 to 10).  She really enjoys the puzzle and songs.  Each puzzle piece has a number of animals relating to the current number they are on.  Granted she doesn't know her numbers in order yet, she does understand matching and is also learning about animals.  I printed the activity book and that is a bit advanced for her at this time, but it teaches them number counting and writing.  The music is great!  I love the fact the puzzle comes with a CD, to print the activity book at any time!  Most products you use the activity book once and you need to dispose of it.  Great product for upcoming birthday parties, holidays, or rainy or snowy day activities.
For this product and many others, visit the Twin Sisters website at http://www.twinsisters.com/

Twin Sisters can also be found on Facebook &
Faith and Family Reviews received the following product in exchange for writing a review. While we consider it a privilege to receive free products to review, our reviews are our honest opinion and thoughts of the product.

Share and Enjoy