Faith and Family Reviews received the following product in exchange for writing a review. While we consider it a privilege to receive free products to review, our reviews are our honest opinion and thoughts of the product.
About Gerber
"As a parent, you want to do the very best for your little one. And one of the best things you can do is guide him on the road to good nutrition and healthy development. But how do you know you're making the right decisions? For moms throughout the United States, the answer is the Start Healthy, Stay Healthy™ Nutrition System—a trusted resource you can rely on to help you choose what's best for your child's nutrition.
Nestlé's acquisition of Gerber in September 2007 brought together two of the world's leading experts in early childhood nutrition. And it gave us the opportunity to focus our leadership on one of America's major challenges: filling the nutrition gaps and improving the poor eating habits of infants and young children.
Start Healthy, Stay Healthy is our response to this challenge. The Start Healthy, Stay Healthy Nutrition System is an innovative approach which helps you choose the right nutrition for your baby based on his stage of development. Only Gerber offers a unique stage-based system with products, and feeding and nutrition guidance to support healthy growth and development and encourage healthy eating for your child from birth to 4 years."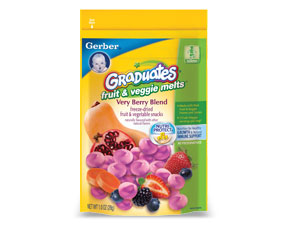 Fruit & Veggie Melt Information:
"Product Highlights
3 fruit/veggie servings per bag*
Vitamins A, C and E for natural immune support
Freeze-dried fruit & vegetable snack
No preservatives
NUTRIPROTECT™—Nutrition for Healthy Growth & Natural Immune Support"
"NUTRIPROTECT blends for cereal, snacks and beverages
Healthy growth and natural immune support
For cereal, snacks and beverages, there are a variety of NUTRIPROTECT blends that offer your child nutrients that support healthy growth and nutrients that support a healthy immune system. Look for the key nutrients found in each blend featured within the blocks of the NUTRIPROTECT symbols."
"Did You Know?
About 25% of his calories come from snacks.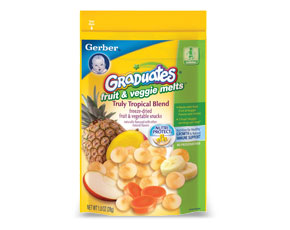 GRADUATES FRUIT & VEGGIE MELTS snacks are a great way to make every bite count by providing vitamins A, C & E for healthy growth and natural immune support.
GRADUATES FRUIT & VEGGIE MELTS snacks are freeze-dried fruit & vegetable snacks and are naturally flavored with other natural flavors.
Nutrition Specially Made for Toddlers
You want the best possible nutrition for your child. The GRADUATES line of meals, drinks and snacks are specially made for toddler developmental and nutritional needs.
Made for Toddlers
First step to healthy independent eating
Easy to chew and swallow
A perfect food for little fingers
Not messy"
Fruit & Veggie Melts are available in Truly Tropical Blend & Very Berry Blend.
My Review –
Fantastic product!  My daughter is an addict!  I've already been out to buy more!  My husband and I tried them and they taste great.  They are not at all messy.  Great for a snack, anytime.  I definitely recommend this product!
You can find more Gerber products for all ages at www.gerber.com or on their facebook page.
Share and Enjoy