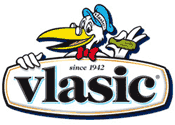 I'm sure we've all had a Vlasic pickle sometime in our lives.  Well, good news!  Vlasic came out with reduced sodium pickles!  25% less!
"In 1974, a wisecracking Vlasic Stork flew out of America's television creens with the messafe that crunchy," Vlasic is the best tasting pickle I ever heard!"
More fun facts about the Vlasic Stork –
"What does a lovable stork with a Groucho Marx voice have to do with selling pickles?
Some say about the same thing a cheese maker has to do with pickles. But others say that – since the national birthrate was dropping at that time – concerned Vlasic managers simply offered the Stork an opportunity to deliver pickles since babies were in such short supply! You can pick the explanation you like best.
In any case it worked, and while baby booms have come and gone, the Stork continues to stay with us as the fun Spokesbird of our fun brand."
My Review -
We LOVE pickles in our house!  I'm big on salt too, I put salt on almost everything.  So, usually I'm turned off my the reduce sodium items.    Honestly, I didn't even notice the difference.  My tastebuds are working overtime right now writing this review.  They were very good and still have that same great Vlasic crunch.  Go and buy them!
Faith and Family Reviews received the following product in exchange for writing a review. While we consider it a privilege to receive free products to review, our reviews are our honest opinion and thoughts of the product.
Share and Enjoy