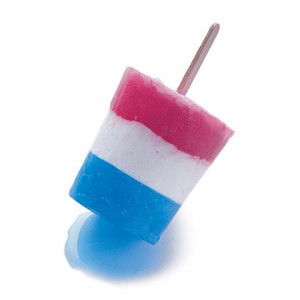 From Family Fun Website & Magazine.  Forget about the blueberry & strawberry cake dessert, try this one!
http://familyfun.go.com/recipes/patriotic-pops-683134/
Ingredients

2 cups blue Powerade, Gatorade, or Kool-Aid
12 5-ounce disposable cups
1 cup frozen whipped topping

1 cup vanilla yogurt
12 craft sticks
2 cups cran-raspberry juice
Instructions
1.  To make the pops, equally divide the blue juice among the plastic cups, then place the cups in the freezer until the juice is partially frozen, about 30 to 45 minutes.
2.  Mix together the whipped topping and yogurt and divide this mixture among the cups.
3.  Set a craft stick in the center of each pop and return the cups to the freezer for approximately 45 minutes.
4.  For the final layer, add the cran-raspberry juice to the cups and place them in the freezer until solid.
5.  To remove the pops, run warm water over the outside of each cup.
They are on my list this year!  If you follow the site above, there's a short video to explain & demonstrate the recipe also!  Enjoy!  Happy 4th!
Share and Enjoy