We have been having some problematic encounters with ticks at Mrs. A's farm. I could tell you some pretty funny stories about reactions, but I don't think my children would appreciate it. I will tell you that most of us get itchy just talking about ticks or bugs, as I scratch my neck mid-type.
As you all know, we try really hard to stay away from chemical insecticides, the very reason we are organic farmers. Therefore to combat the ticks, fleas and insect bites we have been using Purification, Peppermint, Lavender and Cedarwood. The ticks just tend to fall off, unless we happen upon a stubborn one because the ticks supposedly breath through their skin and the hinders their breathing when dropped on them.
Purification contains Tea Tree Oil (Melaleuca alternifolia) , which is good for a variety of things including: rashes, insect bites, nail fungus, dermatitis, ringworm, thrush, head lice, sore throats, boils, congestion, arthritis, cold sores, fatigue, useful for a wide spectrum of infections. It has high germicidal value. Scent: Sharp, spicy, warm with medicinal tones.
When I came across this comic, I couldn't help but laugh. If you only knew!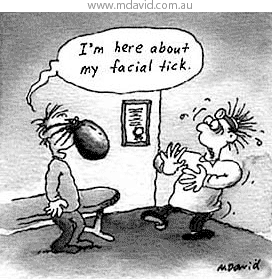 Copyright © Mark David. All rights reserved
Share and Enjoy