Summer is my favorite season. I have a lot of great memories of camping with my family growing up, swimming, biking, roasting marshmallows and hotdogs over the camp fire, walking and lots of sleepovers on my birthday.
Since having a family of my own we spend a lot of time outside over the summer because Chicago winters are usually cold and unless we have a bunch of snow we are pretty much inside. We go to the park, walk, bike, visit the Botanical Gardens, play in the water in our backyard or any number of other fun outdoor activities. And of course, we garden. The children love seeing where our food comes from and watching a little seed turn into a flower/veggie/fruit (yep they planted or composted apple seeds and we now have an apple tree growing!)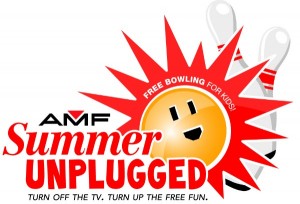 How are you and your family planning to stay active this summer? I have one idea I'd like to share with you.
AMF Summer Unplugged Bowling Program
AMF Bowling Centers is sponsoring a Summer Unplugged Program geared towards kids. The goal is to get unplugged from the TV (and internet for that matter as it can certainly provide sedentary entertainment) and get active by exercising. The program is FREE, but there is a sign up process involved and it does not include shoe rental. It is open to teens and children 16 and under.  Once you are signed up they will receive two FREE games per visit. You can learn more about the program here, as well as find participating centers near you: http://bit.ly/AMFfree
The program starts this weekend with Memorial Day and goes through Monday, September 5th.
So Who Loves Bowling?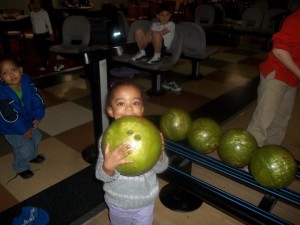 You know I really enjoyed bowling when I was a teen. I usually went with our Youth Group and had a lot of fun. The thing is I have not been bowling since! My husband and I have never bowled together and our children have never gone bowling. Amazing, eh? But the bowling alleys use to allow smoking so that was a huge deterrent for us because of the exposure to second hand smoke. Now that they are smoke-free in Illinois I have considered taking our children. I think they'd have a blast.
Do you and your family like bowling? Leave a comment and let me know!
Disclosure: I participated in this campaign as a member of One2One Network and am eligible for a prize drawing.  All opinions stated in the post are my own.
Share and Enjoy