I read an article over the weekend that shared a recipe from the White House Kitchen – Fruit and Oatmeal Bars – which are one of the First Lady's favorite snacks. They sounded good, if you like snack bars. So for some nice blog content and so that I wouldn't forget the recipe (and yes, I could have just saved it in Word!

), I decided to share it with all of you in hopes that many of you missed the article. (wry smile)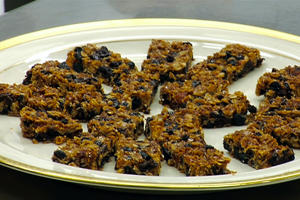 Fruit and Oatmeal Bars
Time:
About 50 minutes, plus time cooling
Ingredients:

6 tablespoons grapeseed oil, or other neutral oil, plus extra for brushing pan
2 cups rolled oats
½ cup mixed seeds, such as pumpkin, sunflower and sesame
½ cup honey
½ cup dark brown sugar
1/3 cup maple syrup
Pinch of salt
1 ½ cups mixed dried fruit, such as raisins, cherries, apricots, papaya, pineapple and cranberries (at least 3 kinds, cut into small pieces if large)
1 teaspoon ground cardamom or cinnamon
2 tablespoons of butter
Directions:
1. Heat oven to 350 degrees. Line a 9-inch-square baking pan with parchment paper or foil, letting a few inches hangs over side of pan. Brush with oil
2. Spread oats and seeds on another baking pan and toast in oven just until golden and fragrant, 6 to 8 minutes, shaking pan once.
3. In a saucepan, combine oil, butter, honey, brown sugar, maple syrup and salt. Stir over medium heat until smooth and hot. In a mixing bowl, toss together toasted oats and seeds, dried fruit and cardamom. Pour hot sugar mixture over and stir until well combined.
4. While mixture is warm, transfer to prepared pan, pressing into pan evenly with an offset spatula.
5. Bake until brown, 25 to 30 minutes. Transfer pan to a rack and let cool completely. Using the overhanging foil or paper, lift out of pan and place on a work surface Cut into bars, about 1 ½ inches by 3 inches.
Share and Enjoy