Faith and Family Reviews received the following product in exchange for writing a review. While we consider it a privilege to receive free products to review, our reviews are our honest opinion and thoughts of the product.
Don't pick up that veggie brush or peeler until you see these gloves.  Fabrikators has a product called Skrub'a Gloves.
"Skrub'a is a line of practical, multi-purpose scrubbing gloves for removing dirt and loose skin from fresh potatoes, carrots, and other vegetables. Did you know that 50% of vitamins in vegetables are located in the peel? This is lost if you use a peeler.  Skrub'a cleans without removing all of the healthy vitamins, and the gloves are hygienic, practical, and fun to use for both kids and adults!
– One size fits all : flexible fabric fits men and women, kids gloves fit ages 4-12
– Internationally patented
– Made with durable nylon, machine-washable and dishwasher-safe
– FDA approved
– Danish Design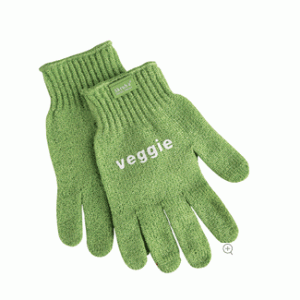 For adults they come in (Pictured above)
Potato (Black) –  "Removing dirt, loose skin, rinsing, and cleaning fresh potatoes, baked potatoes, and many other vegetables"
Veggie (Green) – "Removing dirt, loose skin, rinsing, and cleaning any kind of vegetable including beets, radishes, leeks, mushrooms, corn, etc"
Carrot (Orange) – "Removing dirt, loose skin, rinsing, and cleaning carrots, parsley root, turnips, and many other vegetables"
Kids gloves come in Potato (Black), Pumpkin (Orange with Pumpkin Face), & Carrrot (Orange).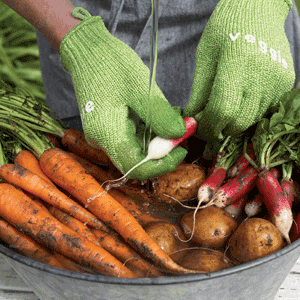 They can be purchased on many online retailers and you can look up your state to find the nearest store.  Their website is http://www.fabrikators.com/
My Review:
I received the Veggie Skrub'a Gloves and used them on mushrooms and they work!  They feel a little weird on your hand.  Kinda like a plastic scouring pad, but much softer.  I haven't put them in the dishwasher yet.  Yes, they say on the tag they are dishwasher safe!  I would put them on the top rack if you try it.  I found just washing them well under the faucet worked well for me.  Once I get more veggies from our CSA, I will be using them much more, but so far they are working for me.
Share and Enjoy