If you live or visit the Washington DC area, Nashville, or Oregon.  Your in for a treat, a frozen treat to be exact.  On page 41 of the June 2011 Food Network Magazine, these places have frozen veggie pops!  What a great idea!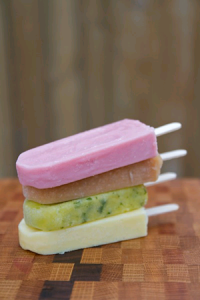 The picture about is from Pleasant Pops in Washington, DC. On their website www.pleasantpops.com, they say their favorite are…
Apple Cinnamon
Avocado Cream
Banana Date
Blackberries and Cream
Blackberry Basil Cream
Blueberry Pancake
Cantaloupe Mint
Carrot Apple Ginger
Carolina Sweet Tea
Chocolate Cream
Chocolate Mint
Chongos: Mexican Sweet Cream and Cinnamon
Coffee 'n Cream
Cookies 'n Cream
Cucumber Chile
Eggnog
Fig
Golden Delicious Apple
Good Old Strawberry
Green Tea
Guac Pop (Avocado Lime)
Honey Crisp Apple
Lemon Lime Ginger
Peaches 'n Ginger
Peppermint
Pineapple Basil
Pina Colada
Pumpkin Pie
Strawberries and Cream
Strawberry Rhubarb
Sweet Cream 'n Corn
Vanilla Cream
Watermelon Black Pepper
Watermelon Cantaloupe
Watermelon Cucumber
Watermelon Mint
They all sound wonderful.
At Nashville's Las Paletas (2905 12th Ave. South; 615-386-2101) according to Food Network Magazine they have a fresh corn with heavy cream pop.  Then if your heading to the west coast, check out Sol Pops (www.solpops.com).  In Portland, OR, they have multiple locations and sells a sugar snap pea -orange juice pop.
Unfortunately, I don't live anywhere near these areas, but I'm going to try and make them at home.  It will be a trial and error for sure.  My toddler daughter LOVES ice cream and ice pops.  If I can sneak a veggie into it, bonus for me!  I looked on the web for a little bit to find a "base" recipe with no results.  However, I know juices will freeze and if I run some veggies in the food processor.
Share and Enjoy