Although our family is in process, we really do try to eat plenty of fruits and veggies. Our problem is keeping those growing tummies full! Our boys are always coming to me saying, "I'm hungry!" So we do provide them with lots of carbs too because they are very slim and do not seem to have an issue with weight control at all! Just like their daddy, they will be tall and thin.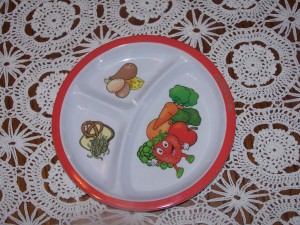 If you want to help your child eat more balanced, healthier meals….then here is something that might be a tool to get them motivated to eat those veggies. It's a children's plate that is sectioned to promote the recommendation of half their meal fruits and vegetables!  This plate is perfect for a  5 year old (maybe even the 10 year old.. since the creator's 10 year old still eats on it!  Not sure my children over 5 would since they associate it with a "baby plate") Parents, grandparents, health departments, hospitals, and children's diabetes programs have all purchased plates and found them to be helpful at home and in their practice.
We received one, but I have to be honest we have not used it yet! I have had it in my review pile on the desk and was saving it for baby to use. It is a typical child's plate and will wash up well. However, it is melamine ware, which is BPA free, lead free and perfectly safe to use in the dishwasher. It is not microwavable though.
This plate is brightly colored and attracts the attention of small children with its fun design. Love the little strawberry, don't you? Sturdy little plate.
For more information or to buy this great kid's plate, please visit www.superhealthykids.com or www.healthykidsplate.com
Faith and Family Reviews received the following product in exchange for writing a review. While we consider it a privilege to receive free products to review, our reviews are our honest opinion and thoughts of the product.
Share and Enjoy