Gimme a holiday and I'll eat for it!  We started celebrating a few years back with a couple of tacos and churros.  Today, I wondered why?  Here's the history of Cinco De Mayo from the source.  http://www.mexonline.com/cinco-de-mayo.htm
"The history of Cinco De Mayo, The 5th of May, commemorates the victory of the Mexican militia over the French army at The Battle of Puebla in 1862.  It is the primary regional holiday in the Mexican state capital city of Puebla and throughout the state of Puebla, with some limited recognition in other parts of Mexico, and especially in U.S. cities with a significant Mexican population.  It is not, as many people think, Mexico's Independence Day which is actually September 16."
So, a little history to go along with your Mexician Fest!  Oh, try this recipe.  It's wonderful!  Adios!
Ultimate 7-Layer Dip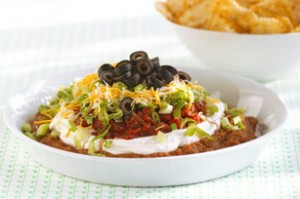 357
read reviews
 (357)
rate this recipe
total time 3 hr 10 min
prep 10 min
servings 6 cups or 48 servings, 2 Tbsp. each
What You Need
1 can (16 oz.) TACO BELL® HOME ORIGINALS® Refried Beans
1 Tbsp.  TACO BELL® HOME ORIGINALS® Taco Seasoning Mix
1 cup BREAKSTONE'S or KNUDSEN Sour Cream
1 cup  TACO BELL® HOME ORIGINALS® Thick 'N Chunky Salsa
1 cup  KRAFT Mexican Style Finely Shredded Four Cheese
2 Tbsp.  sliced black olives
RITZ Toasted Chips Original
Make It
 MIX beans and seasoning mix; spread onto bottom of pie plate.
TOP with layers of all remaining ingredients except chips. Refrigerate several hours or until chilled.
SERVE with chips.
TACO BELL® and HOME ORIGINALS® are trademarks owned and licensed by Taco Bell Corp.
Share and Enjoy