Faith and Family Reviews received the following product in exchange for writing a review. While we consider it a privilege to receive free products to review, our reviews are our honest opinion and thoughts of the product.
If you are not familiar with BornFree products you should get to know them! I highly recommend them. They are free of dangerous chemicals such as Bisphenol-A (BPA), Phthalates and PCV.  BPA is a known estrogen mimicker that is used in the production of polycarbonate plastic. Remember the huge controversy over safe plastics? Well this is culprit. According to researchers it may cause developmental and neurological problems in our kids.

Not good. That is why we have been slowly switching our old products over to the so-called good plastics.
Another important aspect is the venting system that BornFree has designed to reduce colic and middle ear infections. We have not had very much problems with our kids having colic or ear infections, thankfully, but I know for others this has been a struggle.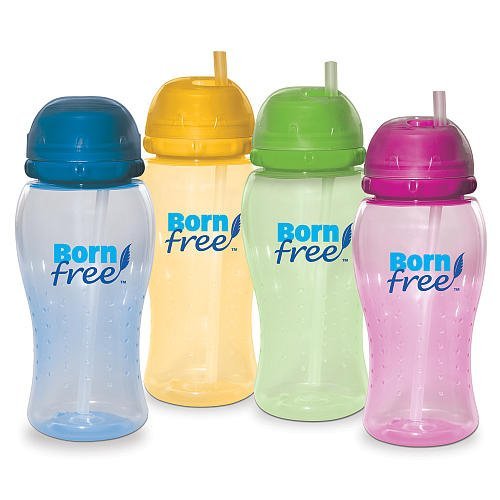 My Review
We received a Twist'n Pop Easy Drink Straw Cup. It is a toddler cup that holds 14 ounces, has a twist straw mouth with a pop-up soft silicone straw that keeps the straw clean if it falls to the ground. The cup dissembles for easy cleaning. My toddler uses this cup with ease.  He loves it and so does his little brother,  Go-Go Boy! Go-Go Boy tends to use the straw to gum on – he's teething and has two big chompers bulging out on top. Once those are through no more gumming the straw!
I love the little grips that are on the side to help prevent slipping from a child's hands. The straw is durable and it is leak free when it is twist shut. Bonus feature in my book!
This cup comes in four cool colors as shown in the photo above. We received the green one.
Two thumbs up for the new BornFree Twist'n Pop Easy Drink Straw Cup!
Share and Enjoy