Faith and Family Reviews received the following product in exchange for writing a review as a member of One2One Network. While we consider it a privilege to receive free products to review, our reviews are our honest opinion and thoughts of the product.
Yanni's Back!  It's been over 8 years since Yanni has released an original composition.  Yanni's new CD Truth of Touch is available now!  In addition, Yanni also started his US tour in March.

Truth of Touch has 15 amazing tracks.  Your melodious journey begins with CD entitled Truth of Touch. The only thing missing from this track is a tall glass of ice water with a lemon and someone rubbing my feet.  As you continue on your Yanni trip, Vertigo is a faster up tempo song and will take your mind to dancing fountains.   Yanni also incorporated a few tracks with vocals including Can't Wait and Secret.
My Review:
I know of Yanni but never really sat down and listened to his music.  I'm sure I've heard his music in various places and didn't realize it was Yanni.  After listening to his new CD Truth of Touch, Yanni has another fan.  His music in this collection was beautiful!  Each song has it's own story, as your mind wanders through the calming tones.  I will keep telling people about Yanni and his new CD Truth of Touch.
His CD or download is available now at his website, www.yanni.com or in stores now.  Yanni also started a US tour in March.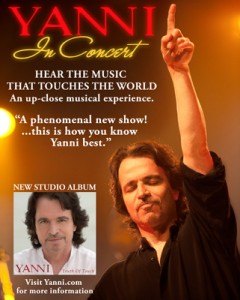 Share and Enjoy