Faith and Family Reviews received the following product in exchange for writing a review. While we consider it a privilege to receive free products to review, our reviews are our honest opinion and thoughts of the product.
Most of our family loves milk. Milk is a good source of Vitamin D and Calcium. It is good for us or at least we are taught that it is. We tend to buy milk that is on sale. We do try to avoid brands that contain hormones etc. Personally, I grew up on raw milk due to living in the country. I have fond memories of going to the farm with my mom to get milk out of the huge milk tank in the milk parlor in the milking barn. I would visit with the farmers, look in on the milking, visit the calves or just wait in the car. We knew our farmer. I won't get into the raw vs. pasteurized milk debate here in this post, but if you are itching for a debate we can do that in the comment section.

We could even debate the pasteurized vs. organic issue as well.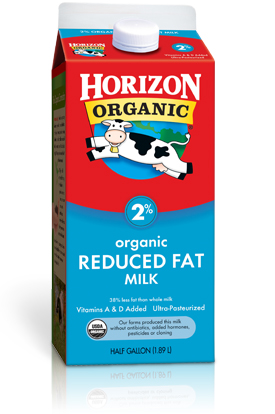 Speaking of organic, last month we received three coupons for a half gallon of Horizon® Organic Milk. Most of you probably already know that organic milk is produced without antibiotics, pesticides and from cows not given added growth hormones. Organic milk is also produced using cows who are treated humanly and who are grass fed or fed organic feed or hay (No GMOs!) during the winter. Much different than feedlot raised cattle. Horizon® Organic Milk is available in gallons and half gallons. What I did not know is that Horizon® is ultrapasteurized. Not sure that is a good thing, unfortunately. Nevertheless, purchasing milk from Horizon® supports over 600 individual organic farmers! Wow, I did not know that fact.
Our Review
We enjoyed Horizon® Organic Reduced Fat Milk very much. It had good flavor and tasted like milk. We drank it up in quick order. It came nicely packaged and we appreciated the coupons that bought us 1.5 gallons of milk. What more can we say? Milk is milk? (Let the debate in the comment section begin! Seriously, I'd love to hear where you all are on this topic.)
Share and Enjoy