Easter is a wonderful holiday for our family because it represents when Jesus Christ died and rose again for our sins. It is a wonderful reminder of how much God loves us. This is the foremost thing in our minds during this holiday. We have resurrection eggs that have a little piece that represent something about this resurrection season. The resurrection eggs are 12 eggs inside a egg carton. The 12 eggs have 12 little pieces inside that represent something about the resurrection season.
Resurrection Eggs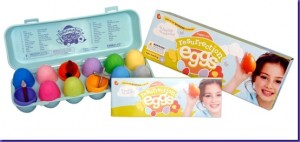 Please note- our Easter eggs are a much older version then the picture shown!
Pieces include:
* A cross
* A spear
* A thorn
* A white cloth
* A whip
* A nail
* A rock
* A donkey
* A crown
* A dice
* A coin
* and the last egg is empty.
The Easter egg set also includes a little booklet that tells the story of the resurrection. We read one of the 12 stories each day leading up until Easter morning.
Our children love looking at these eggs. And they also love hearing the story of the resurrection leading up to the 12 days till Easter. These easter eggs are a wonderful way to teach your children about the resurrection while having fun!
The only negative thing we found about these eggs is that they can break easily.

Special Easter Breakfast

Another Easter tradition that we have is that we usually do a special breakfast. Our special breakfast is usually our favorite oven French toast or homemade cinnamon rolls that are quite comparable to the mall version. Really. Both are very yummy!
Recipe for Oven French Toast:
We got this recipe from Family Life Today's website a few years ago. It is so easy, but oh so yummy!
10 eggs
1 loaf of sliced bread
cinnamon
1 stick of butter
1 cup brown sugar
1 cup milk (or less we found it too runny, so less is better for us)
First, melt the stick of butter in the oven in a 9×13 pan. Then add 1 cups brown sugar and press into bottom of pan with a fork. Next layer the bread. Beat the eggs in a bowl and shake in cinnamon with the eggs and add milk. Mix well. Then pour over the bread. Cover with foil and cook for 1 hour at 350 degrees.
The Empty Tomb
One year we even made "tomb" cookies. They are little cookies that you make then you put them in the oven overnight and when you wake up in the morning they are hollow on the inside – representing the empty tomb where Jesus was! They were a big hit! You can find the recipe here. They are very easy to make and quite fun to do with your children!
Every year we also read to our children several books Easter. Some of these includes Benjamin's Box, Legend of The Easter Egg, The Resurrection Story, among others.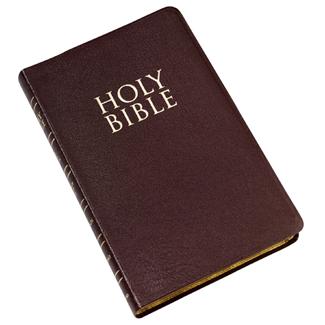 Easter Church Service
Another Easter tradition that we have is to go to church on Easter Sunday. Most years our church has had a special Easter brunch that we attend before the worship service.
What are your Easter traditions?
I wrote this blog post while participating in the SocialMoms and Hop blogging program, for a gift card worth $25. For more information on how you can participate, click here.
Share and Enjoy