Editor's Note: This is a guest post. While we appreciate our guest writer's submissions, this does not constitute endorsement or agreement to the opinions expressed in the articles featured.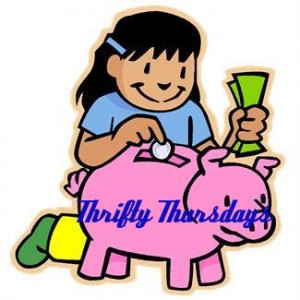 My name is Melissa Correll with Itty Chic! You can create cards, scrapbook pages, and anything else that you set your mind to with things you already have around your house!
Today, we are going to create a simple card out of:
Cardstock
Buttons
Cotton Twine
Glue
A stamp with your favorite saying
Ink in your color of choice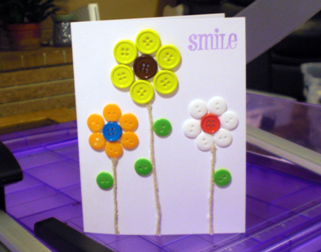 Step one: Take your page of card stock and cut it in half. Then fold your half in half to create a blank card.
Step two: Choose your buttons and cut your twine. I had a bag of random buttons sitting around and I chose my colors out of that. You will need 6 buttons for the petal of each flower and a color for the center. Then you will choose buttons for your leaves. Use cotton twine just like what you use to sew up your turkey on thanksgiving! Cut it long so that it will be easy to handle
Step three: Lay everything out so that you can see how it will turn out. Play with the arrangement till you like how it looks!

Step four: Bring out the glue! Now it is time to make your creation a reality. Start by putting down the centers of your flowers and building the petals around them one at a time. Next, you are going to want to glue down the twine. The easiest way to do this is to either lay a thin line of glue directly on the paper and lay the twine over it, or run your glue down the twine and place the twine down that way. Once your twine is placed, you should still have the ends hanging off the end of the card, leave these until the twine dries! Place your leaves and let the glue dry.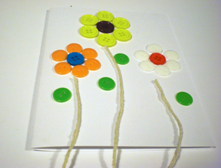 Step five: Time to finish it up! Cut your loose ends and choose your favorite stamp, I chose simply Smile! With a bright lavender ink. Something important to remember when you are stamping, push straight down and pull up, or you will end up with uneven ink, or a double image!
Step six: Bless someone else. Now that your card is finished, all you need to do is find someone to give it too!
More about Melissa and Itty Chic: I started my business in Mid July of 2010 with the sale of cards, and memory boards. I grew up poor and loved turning nothing into something. I started my business because my goal is eventually to quit my day job and be a stay at home mom. I want to raise my future children, not have them raised by a daycare. To see this and more, go to http://ittychic.com and http://ittychic.com/Blog!
Share and Enjoy