And since no one else entered Karen won! Thanks to Karen for entering and to Lightfuse for sponsoring this giveaway!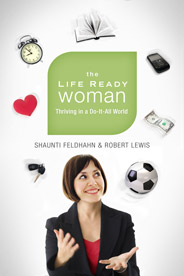 Whether a stay at home; or working mom, an airplane-hopping executive, an empty-nester caring for multiple generations or a single juggling high demands of career and personal life, today's fast-paced modern world leaves women gasping for balance. We as modern Christian women want to look to the Bible for guidance on how to manage our lives — but because the world of women looks so different today than it did when the Bible was written, it is hard to find chapter and verse that seems to apply to our situation today.
Thankfully, God has given us exactly that timeless, unchanging guidance for how to find peace, clarity, and God's best for our lives once we know where to look! The Life Ready Woman: Thriving in a Do-It-All World, reveals a profound biblical roadmap for how each of us can find the abundant life we are longing for, rather than the stressful, torn, how-do-I-balance-it-all life we often feel like we are trying to keep up with today. Actually being a LifeReady Woman means that you are clear about your life, bold in your faith, and able to find God's best for you, and the end result will be that you not only survive but thrive in our do-it-all world.
God has given every wonderfully unique woman different skills and abilities, different desires, and different temperaments — and every woman around the planet and through the ages is certainly living in different circumstances. But no matter what a woman's life looks like, the Bible says that God has an individual mission and plan that He's carefully designed for each of us. And He wants us to find it. Starting January 2011, The Life Ready Woman and the Life Ready Woman Video Series will help every wonderfully unique woman to thrive as she identifies and courageously pursues God's unique design and callings for her. LifeReady Woman puts you on a roadmap to make decisions that will lead to relief, delight, and fulfillment instead of regret.
Enter to win a copy of Life Ready Woman!
Mandatory Entry: Tell me why you want to win.
Extra Entries (Please be sure and leave a comment and link for extra entries):
1 Entry:Follow Faith and Family Reviews On Twitter1 Entry:Like/Friend Faith and Family Reviews on Facebook.
2 Entries: Follow Faith and Family Reviews on Google Friend Connect (on the our right side bar).
2 Entries: Tweet about this giveaway, but only one tweet per day please. Include your tweet url with your comment. You may write your own tweet or use this one:
Giveaway: Enter to win a copy of Life Ready Women book http://faithandfamilyreviews.com/?p=7010 @faithfamilyrevw! Please share! Thx!
5 Entries: Blog about this giveaway and link back this post.
1 Entry: for every comment you leave anywhere else on this blog, but please leave a link with your comment!
Details:
This giveaway will run from February 17th-March 3rd at midnight CST. The winner will be chosen through Random.org. I will send one winner their prize. Winner will be contacted via email on or before February 10th and will be asked for their contact and other pertinent info. Winners will have 48 hours to send me their e-mail at [ffr] [giveaways] [at] [gmail] [dot] [com] (without spaces and parenthesis). Please note: This giveaway is offered to US only.
Thanks and have fun!
Share and Enjoy