Congrats to Jessie C and Magen! You won this giveaway! I will be contacting you shortly. Winners chosen by Random.org. Thanks to Hefty for providing me and the winners with the product.
***I was provided with Hefty Basics paper plates by Hefty***
Hefty has a all-new Hefty® Basics disposable tableware product line. This line of paper plates are biodegradable in-home composting and free of inks, dyes or coatings. Hefty® Basics™ paper plates are stronger than everyday plates at a value price, and provide a great choice for people interested in an environmental option.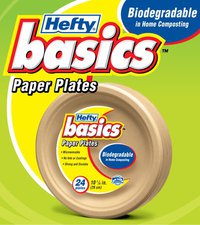 In the spirit of environmentalism, Hefty® Basics™ has partnered with the Arbor Day Foundation™ on a quest to plant 10,000 trees, one for every ten new "Like"s on Facebook and we'd greatly appreciate your support by spreading the word! To Like Hefty on Facebook please go here- http://www.facebook.com/Hefty.BasicsTableware

BUT, on to the free paper plates. If you would like a coupon for FREE Hefty Basics paper plates then all you have to do is leave a comment on this post saying so. I'll randomly draw two people and ship the two winner's their coupons.
Happy entering!
Share and Enjoy