Faith and Family Reviews received the following product in exchange for writing a review. While we consider it a privilege to receive free products to review, our reviews are our honest opinion and thoughts of the product.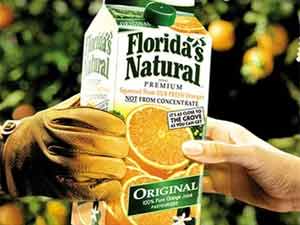 Orange juice is our favorite breakfast drink. We have tried many, many different brands of pure orange juice and Florida's Natural ranks in our top two favorite brands. (The other is a organic brand, which I can't even remember the name of, that we tried years ago). We love the fact that Florida's Natural comes from the US only. Many brands of pure orange juice (including Tropicana® Pure Premium and Simply Orange®) import their juice from Mexico, China, Brazil, and combine that with the US grown fruit. We like to buy US made products to help support the US economy. We think our food should come from the US and be as local as we can get it. We are not quite at eating foods in season, but it would be nice to get to that point.
We really like to taste of Florida's Natural. It is really sweet tasting and delicious, like real oranges.
Here's some product information about Florida's Natural: Most people think all orange juice is from Florida. But did you know that Tropicana® Pure Premium and Simply Orange® sometimes import their juice? Because Florida's Natural is owned by Florida growers, every drop of their orange juice comes only from homegrown Florida oranges. Never imported. And supporting American growers is always in style. For more information about Florida's Natural, visit http://bit.ly/b46i39.
Share and Enjoy