Faith and Family Reviews received the following product in exchange for writing a review. While we consider it a privilege to receive free products to review, our reviews are our honest opinion and thoughts of the product. Editor's Note: I also believe we won this product because we posted about an author's giveaway… maybe…I also think I am loosing brain cells without my daughter's help lately since we have been down to one computer!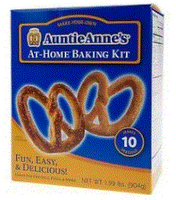 You have heard of Auntie Anne's Pretzels, right? Most of you probably know they taste yummy, so you don't need our review to tell you that fact. However, you may never have tried their At Home Baking Kit. We were not disappointed, it makes exceptional tasting pretzels as well. We forgot to take pictures of our baking experience. It's pretty hard to remember to take pictures of a food review product when you have ten hungry people waiting to be fed. So forgive us for this oversight! What you would have witnessed is us mixing a very easy pretzel baking mix and then leaving it to rise too long. It did not affect their taste just their look. They were rather thin, not plump and puffy like they should have been.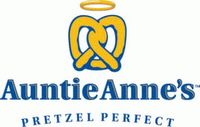 We would need two pretzel mixes to sufficiently feed our family a decent snack, as we served this box as a side with a meal.
What else can we say? They were very good.
Share and Enjoy