Congratulations to Karen! You won this giveaway! (and no we aren't rigging this Random.org really likes Karen! The secret is to tweet, tweet, tweet!)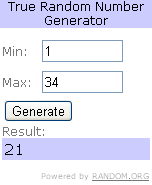 Thanks to General Mills for providing me with information and for providing product for review and giveaway through MyBlogSpark. Faith and Family Reviews received the following product in exchange for writing a review. While we consider it a privilege to receive free products to review, our reviews are our honest opinion and thoughts of the product.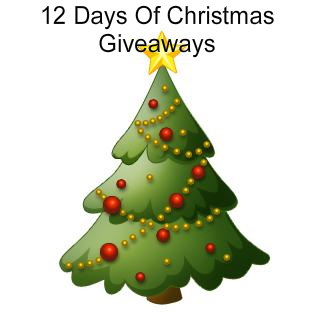 Sorry, yesterday we were busy Christmas tree hunting, cutting and decorating that I did not get to post our seventh day of Christmas Giveaways in time. So we'll feature 6 and 7 today.
On the seventh day of Christmas my true love gave to YOU! Lemon Pepper Panko & a Cookbook by Chef Chiarello!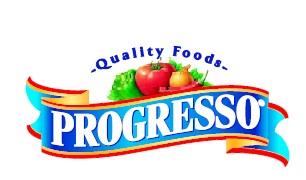 The chef's secret is out – panko is in! A longtime secret of Japanese cuisine, panko is now a pantry staple for creating perfect crispiness in any dish. This past October, Lemon Pepper joined the ranks of Progresso's line of panko bread crumbs, which includes Original and Italian flavors.
Whether frying, baking or broiling, this culinary superstar adds a flavorful crunch to create simple, savory recipes. Made from the soft, tender centers of the bread, Progresso Lemon Pepper Panko combines the perfect crunch with effortless flavor to give any dish that extra punch. The large, flaky crumb has a coarser texture than traditional bread crumbs, delivering a lighter, crunchier coating or topping.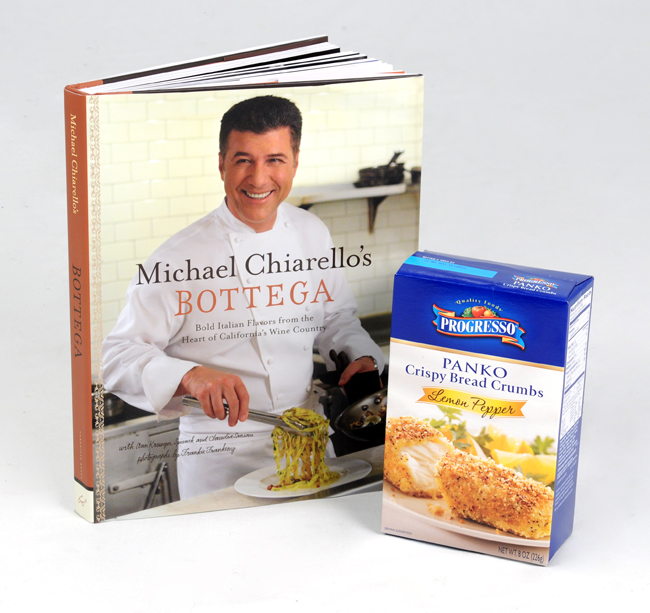 My Review:
I was sent Lemon Pepper Panko breadcrumbs and an autographed copy of chef Chiarello's new cookbook: Michael Chiarello's Bottega.
I thought that the cookbook was very well written, and I liked that it included a lot of wonderful Italian recipes.
Our family really liked the Lemon Pepper Panko breadcrumbs. We used ours to make breaded chicken and we liked how easy it was to use these bread crumbs. We also loved the taste! Yummy! They were a little hot on the tender tongues of the little ones, but the rest of us loved them. Everyone wanted seconds. Even my husband who tends to be skeptical about new foods loved the Lemon Pepper Panko bread crumbs! The bread crumbs were so tasty that we didn't have any leftover chicken! Boo hoo, as we tend to like leftovers around here so we don't have to cook again! Thankfully everyone's tummy was satisfied.
On to the giveaway:
Enter to win a Lemon Pepper Panko breadcrumbs and an autographed copy of chef Chiarello's new cookbook: Michael Chiarello's Bottega!
Mandatory Entry:Tell me why you want to win!
Extra Entries (Please be sure and leave a comment and link for extra entries):
1 Entry:Follow Faith and Family Reviews On Twitter(http://twitter.com/faithfamilyrevw)
1 Entry:Like Faith and Family Reviews on Facebook. Please do not unlike us after the contest is over. Isn't that a form of dishonesty? Just sayin'. Put yourself in our shoes, ok? Thanks!
Editor's note: We learned recently that Facebook limits the amount of "likes", so not much we can do besides friend each other. Just let us know in your comment which one you did for us and the giveaway. Thanks!
strong>2 Entries: Follow Faith and Family Reviews on Google Friend Connect (on the our right side bar).
2 Entries: Tweet about this giveaway, but only one tweet per day please. Include your tweet url with your comment. You may write your own tweet or use this one:
Giveaway: Enter to win a lemon pepper panko bread crumbs @faithfamilyrevw! http://faithandfamilyreviews.com/?p=5078 Please share! Thx!
5 Entries: Blog about this giveaway and link back this post and Progresso.
1 Entry: for every comment you leave anywhere else on this blog, but please leave a link with your comment!
5 Entries: Tell me your favorite thing about Christmas.
Details:
This giveaway will run from November 27th to Sunday, December 11th at midnight CST. The winner will be chosen through Random.org. MyBlogSpark will ship 1 winner a box of Lemon Pepper Panko bread crumbs as well as an autographed copy of chef Chiarello's new cookbook: Michael Chiarello's Bottega. Winner will be contacted via email on or before December 15th and will be asked for their contact and other pertinent info. Winners will have 48 hours to send me their info at [ffr] [giveaways] [at] [gmail] [dot] [com] (without spaces and parenthesis). Please note: This giveaway is offered to US.
Thanks and have fun!
Share and Enjoy