Congratulations to Karen F! You won this giveaway! Thanks to all who entered and to Big Skinny for sponsoring this great giveaway. Winner chosen by Random.org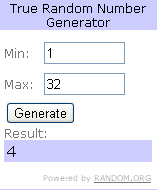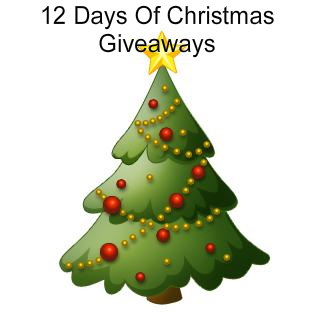 I guess we should have called this the 12 days of Holiday Giveaways, but oh well, Christmas was on my brain when we talked about it here at home. I may have to extend some of the giveaways to make sure they receive enough exposure though, but wanted to get the bulk of the work completed before I go back to my client full-time.
Anywoo…..On the first day of Christmas my true love gave to YOU- A wallet of YOUR choice from Big Skinny! One winner will get a wallet of their choice from Big Skinny! Exciting huh!
Big Skinny has a variety of products including our two favorites:
Woman's Taxicat Bi-Fold Wallet In Pink and I really liked this wallet. It was not too bulky, and I loved the pink color!

I really liked that the plastic "thing" in the wallet kept my money from sliding around and falling out. I thought that this wallet was a great addition to any woman's closet! This wallet comes in 6 colors and is $23.95. I think this wallet is my favorite of the two wallets.
Executive Checkbook Bi-Fold Wallet With Zippered Pocket In Purple: This great wallet is perfect for the working woman as it holds about 40 thick plastic cards, checkbook, and stretched out cash money plus coins. Their special "divide & conquer" design breaks up your cards into 4 discrete areas so they don't all stagger on one long row leaving huge lumps. How cool is that? The wallet was very nice. And comes in 6 colors. This wallet is $25.95.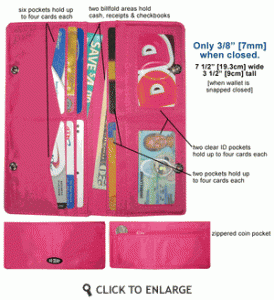 Enter to win….
Mandatory Entry:Go to bigskinny.net and tell me what wallet you would choose if you won.
Extra Entries (Please be sure and leave a comment and link for extra entries):
1 Entry: Follow Faith and Family Reviews On Twitter

1 Entry: Follow Big Skinny on Twitter .
1 Entry: Like Faith and Family Reviews on Facebook. Please do not unlike us after the contest is over. Isn't that a form of dishonesty? Just sayin'. Put yourself in our shoes, ok? Thanks!
Editor's note: We learned recently that Facebook limits the amount of "likes", so not much we can do besides friend each other. Just let us know in your comment which one you did for us and the giveaway sponsor. Thanks!

1 Entry: Like Big Skinny On Facebook

2 Entries: Follow Faith and Family Reviews on Google Friend Connect (on the our right side bar).
2 Entries: Tweet about this giveaway, but only one tweet per day please. Include your tweet url with your comment. You may write your own tweet or use this one:
Giveaway: Enter to win a wallet from Big Skinny! U choose! @faithfamilyrevw! http://faithandfamilyreviews.com/?p=5567 Please share! Thx!

5 Entries: Blog about this giveaway and link back to this post and Big Skinny.
1 Entry for every comment you leave anywhere else on this blog, but please leave a link with your comment!

5 Entries: Sign up for Big Skinny's email newsletter which is on their website.

5 Entries:Tell me your favorite things about Christmas. (memories, movies, food,gifts, ect, ect)
Details:
This giveaway will run from November 22nd to Sunday, December 5th at midnight CST. The winner will be chosen through Random.org. Winner will be contacted via email on or before December 15th and will be asked for their contact, choice of wallet, and other pertinent info. Winners will have 48 hours to send me their info at [ffr] [giveaways] [at] [gmail] [dot] [com] (without spaces and parenthesis). Please note: This giveaway is offered to US only.
Thanks and have fun!
Share and Enjoy