Faith and Family Reviews received the following product in exchange for writing a review. While we consider it a privilege to receive free products to review, our reviews are our honest opinion and thoughts of the product.
It's been a long time since we had our Back to School product guide, however, we still have this one last product that we need to write up a review about – the Plantronics Voyager Pro. You have to be careful about these phone accessories because they all are not necessarily compatible with all phones. This was the case with us. Then we decided to get new phones with a new carrier and bingo, the Plantronics Voyager is now compatible with my new phone.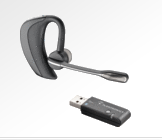 While I don't consider myself tech savvy, I can usually manage to figure most things out for myself over time. I found that setting up the Plantronics Voyager, which is simply an expensiveBluetooth ear piece that allows you to talk on your cell phone handsfree, took me a day or so to understand how this thing worked and I still have not quite figured out one aspect to it that was installed on my laptop.
That said I thought the Plantronics Voyager Pro was very nice, had good sound, and fairly easy to use once set up. However, for it's fancy price of $199.95, I thought that it should stay behind my ear better than it does. I wear glasses so because the arm of my glasses sets behind my ear causing the Plantronics ear piece to not set well on top of it. Any slight movement and the Plantronics Pro pops out of place. I have been disappointed and the ear piece has been sitting in the pocket of my shoulder bag ever since. So much for keeping up with technology, eh? But I cannot be fiddling with the ear piece trying to get it to stay in place while driving or typing for that matter. It just isn't safe or productive use of my time.
Plantronics Voyager Pro UC Retail Price $199.95
Share and Enjoy