Faith and Family Reviews received the following product for free through TheMotherhood.com and Marie Callender's Meals in exchange for writing a review. We are also are receiving a stipend. While we consider it a privilege to receive free products to review, our reviews are our honest opinion and thoughts of the product and monetary compensation does not affect our views of the product.
We were given four FREE coupons to purchase Marie Callender's Meals, which are prepared frozen meals found in the freezer section of the grocery store. We bought the Honey Mustard Chicken, Honey Roasted Turkey, Three Cheese Stuffed Rigatoni & Chicken and finally the Fettuccini with Chicken & Broccoli. We were suppose to offer a couple of them as giveaways, but I have a large family to feed here so we used them all for our family. So what would have cost close to $22.00 for meals only cost us a couple of dollars.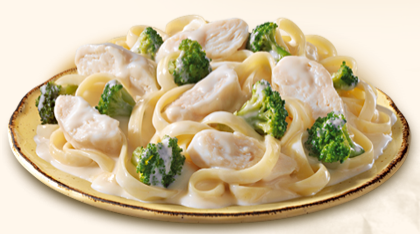 The size of these meals is rather small, but we managed to share them between all nine of us and I was even able to get a taste of each one of the meals. Thankfully there were lunch leftovers to feed to the children who were still hungry after trying Marie Callender's Meals or else we would have had some hungry little tummies still.
The meals take about an hour to cook, which is a long time considering it is a prepared meal meant to save you some time. My husband and daughter picked these up on their way home from volunteering at a local food pantry, so by the time they got home, the meals were cooked, it was 8:30 that we ate. We were so hungry that I completely forgot to take pictures of the meals! And they didn't bother to use a couple of pie coupons for dessert, so we were unable to try those and tell you about them in this review. Hopefully, we will pick up pies this week and be able to tell you about those as well.

The Marie Callender's Meals do not look quite as tasty as the box covers. The Honey Roasted Turkey is featured in such an attractive way that it looks like might almost be eating a Thanksgiving look-a-like, when in reality the potatoes, gravy and turkey were all combined together making it look like a pile of brown mush. Regardless of how it looked, it still tasted amazingly well.
So even though we gobbled up these meals without taking pictures and we were hungry when we ate them, their overall taste was good. I think my favorites were the Fettuccini with Chicken and Broccoli and the Three Cheese Stuffed Rigatoni & Chicken. I could have eaten more of both and my children were kind enough to leave a second little portion of the Fettuccini before letting their brothers finish it off. The veggies in one were kind of soggy, I thought. I believe it was the Honey Mustard Chicken. Sorry, I ate so fast it's a bit of a blur now that it is 4:30am.
My husband thought the onions in the Three Cheese Stuffed Rigatoni & Chicken were too big. Onions are a big turn off to him anyways. He loves the flavor they can give to food, but if they are visible it ruins the meal for him. Therefore, he returned his plate to the kitchen with a pile of onions left on it, while one of our daughters offered to eat the onions for him.

I didn't hear any complaints from the children and considering there are seven of them, that is a good thing!
Marie Callender's Meals besides the classics mentioned above, also offer fresh mixers and fresh flavor steamers. And some brand new baked meals that our store did not have: The new meals are a twist on classic comfort food recipes – Vermont White Cheddar Mac & Cheese, Scalloped Potatoes and Ham and Chicken, Spinach and Mushroom Lasagna. Check out their website for more information and to locate stores near you. Our Jewel store did not carry all of the meals.
Share and Enjoy