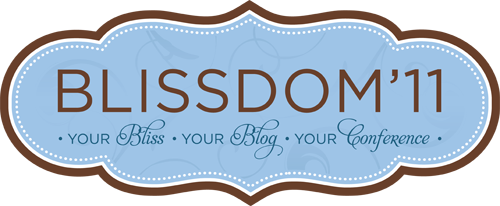 One2One Network is offering The Great BlissDom Conference Package Giveaway and I have entered to win. I have never been to a blogging conference yet and would love to attend this one, which is being held in Nashville, TN. This post is earns me another entry to the giveaway! I came across another opportunity to post about another giveaway offering a Blissdom conference pass, so bear with me. I'll be sure to spread them out though!

Can't tell that I really, really, want to go, eh?
Here's what they said:
We are going to be giving away conference passes to three lucky One2One bloggers for BlissDom'11 in Nashville, TN January 27-28. There are three levels of prizing and all include a full conference pass ($399 value).

BlissDom is the premiere conference for women who find and express their bliss by publishing online. Speakers and panels feature the best blogging, public relations and social media pros gathering to mentor new and old friends alike.

This is Blissdom's most exciting year, with even more incredible content, events, networking and surprises scheduled than ever before. This year's mantra – Think Big. Be Bold. Create Your Bliss. Whether you are a blogging newbie or maven, BlissDom'11 is designed to superserve everyone!
Check out this video highlighting the experience at last year's BlissDom:
BlissDom Conference 2010 from Blissful Media Group on Vimeo.

Follow @One2OneNetwork on Twitter
Join their Facebook Fan Page
One2One Network
Share and Enjoy